Home
Contact
We have set up an email address that is forwarded to both of us / Wir haben eine Email-Adresse eingerichtet, Mails an sie werden zu Michelle und mir weitergeleitet: ---michelle-peter-robin ---at--- michelle-peter-robin ---dot--- com---.
Picture Pages / Bilder-Seiten
In chronological order. Many comments are in German as a compensation for the English main text. / In zeitlicher Reihenfolge, oft mit deutschen Kommentaren.
---
Our Trip
[Peter:] When we reluctantly seeked medical support in order to increase our chances to have a baby we knew that it would more likely not happen. But as a consolation we planned to do something we wouldn't do with a child: An extensive trip through the United States.

Then Michelle became pregnant with Robin, but the trip idea stayed. It occured to us that the parental leave would actually provide a unique opportunity to do this trip and return to safe financial conditions — in Germany employees can return to their positions after up to three years.

Die Idee zu der Reise kam uns, als klar wurde, dass wir auf natürlichem Wege kein Baby haben könnten. Wir wussten, dass die Chancen auch mit medizinischer Unterstützung nicht besonders hoch waren. Als Trost, so nahmen wir uns vor, würden wir etwas tun, was wir mit Baby nicht tun würden: Eine lange Reise durch die Vereinigten Staaten.

Dann wurde Michelle schwanger, aber die Idee mit der Reise blieb, und wir erkannten, dass Michelles Elternzeit mit Rückkehrgarantie eine einmalige Gelegenheit bieten würde, nach einem solchen "Sabbatical" wieder in sichere finanzielle Verhältnisse zurückzukehren.
Our Airstream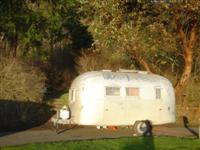 It's actually Michelle's Airstream. Airstreams are RV trailers with a characteristically curved hull made of riveted Aluminum. The first Airstreams were built in the 1930s. The futuristic design and material breathes the Zeitgeist of this decade — remember Flash Gordon comics or the covers of the emerging Science Fiction magazines? It would fit right in.

The Airstream we are traveling in is from 1953 and has been with the Maxfields since the early 60s. Most of the time it served as a weekend home or hunting hut. It's a "13 panel Airstream"; so many panels were needed to build the curved section of the roof. This number is characteristic for an early model. Later one could bend single sheets in both dimensions so that fewer and fewer panels were needed. Coming up: The restorations we did

Eigentlich ist es Michelles Airstream. Airstreams sind Wohnwagen mit einer charakteristischen gerundeten Karosserie, ganz aus genietetem Aluminium. Die ersten Airstreams wurden in den 30er Jahren gebaut. Das futuristische Design und Material atmete den Zeitgeist dieses Jahrzehnts — man denke an Flash-Gordon-Comics oder die Titelbilder der ersten Science-Fiction-Magazine. Der Airstream würde direkt reinpassen.

Der, in dem wir reisen, ist von 1953 und ist seit den frühen 60ern im Maxfield-Familienbesitz. Die meiste Zeit diente er als Wochenenddomizil oder Jagdhütte. Es ist ein "13-Panel-Airstream"; so viele Aluminiumbleche wurden damals benötigt, um die vordere Kurve zu formen. Diese Zahl ist typisch für ein frühes Modell, mit fortschreitender Aluminiumverarbeitungstechnik konnte man das Material vorformen und kam mit weniger Blechen aus.

Demnächst: Die Renovierung
Our Truck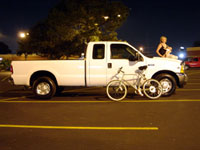 Michelle breastfeeding on the truck.
The bicycle serves as a reference.
The truck's tires are larger
than the bike's!

Getting a proper towing vehicle was a task that occupied us for quite a few weeks in Houston when we prepared for the trip. We wanted to buy a used truck (in the Ford F150 class ) or SUV (in the Ford Expedition class) and sell it afterwards in order to have some buffer money for the first Berlin weeks.

We looked for a while but everything was too expensive or too old. Especially SUVs would frequently exceed our 10,000 dollar budget unless they had well over 100,000 miles on the odometer which means that some major maintenance is on the radar. Then we saw an ad from a MacHaik dealer, a Ford F250 with 55,000 miles on it for 9950 Dollars. It was a basic work truck with an extended cabin that just had enough space to accomodate Robin's car seat on the back bench. No bells and whistles, but with its V8/286 hp certainly strong and heavy enough. Long bed. Too cheap actually, so we went to another mechanic who checked it out. Ok, we would need new tires, but otherwise it was in an amazingly good condition. Maybe nobody else liked the stick shift, but for towing it's one thing less that can fail. The truck was not exactly perfect — we would have preferred a four wheel drive and a turbo Diesel engine. This one would use more gas and we couldn't really go offroad, but we wouldn't do that with the Airstream anyway. The overall balance was still favourable. Michelle test drove it (I didn't even have a license back then!). It was really intimidating. The streets seem really narrow in it, and you look down on the traffic like from a horse.

After a weekend of deliberation we bought it, gave it some maintenance, bought new tires (another difficult decision — we resolved to buy expensive all season tires). Since then it has served us well, except for the broken emergency brake cable/lever. I got a Texas drivers license, and we got used to the size of the truck. You don't really feel the trailer that much. Ok, we switch gears a little later. Without the trailer one can actually drive it like a go-cart, never under 2,500 rpms, abusing the clutch, leaving black marks on the street.
2006/2007 US Trip Log
We went on a one year trip through the USA half a year after Robin was born. This is a linear account of events in reverse order. Yes, it is too long and should be structured into sections; we may do that at some point. In the grey column to the right you can find links to picture pages (who except ourselves wants to read all the boring crap on the main page anyway?).

Many people have contributed to this trip — it was about time to thank them on our acknowledgements page .
Michelle's Summary:
We drove approximately 17,000 miles (27000 km). Running costs were approximately $2,000 per month.

Our Top 10 places and why:

| | |
| --- | --- |
| Favorite places | Explanation |
| Death Valley | Dante's view, Wildrose's water and night sky, Titus Canyon Rd experience |
| Drive thru Escalante and Capital Reef | Spectacular, unexpected views and rock formations and warm light |
| NW Washington | Spending time with Ed/Michelle's family, XC skiing and snow shoeing at Mt. Baker (thanks Julianne) and the rocky land/ocean scape of Cape Flattery and Orcas Island |
| Oregon | Our adventures with the Burrill family and our special trip with them to Timberline lodge |
| California Coast | Monterey Aquarium with Roy, our best picnics with a view, and visiting SF (celebrating with Gary and Sandrijn) and camping on Mt. Diablo with amazing sunsets |
| Wyoming | Getting to be at home with Nancy and Randy in their cabin in Wilson and celebrating a real thanksgiving! It was our first real stop on our big trip and we had the challenge of snow, ice and cold weather. |
| Los Angeles | West Hollywood group house experience, at home with Leslie and Family, Robin's first birthday party |
| Baja California, Mexico | Hiking in the desert to Cave paintings, Meling Ranch, El Rosario (Meeting Anita and the drive to the petrified forest), Bahia de los Angeles (meeting Will and Foster) and Staying in San Ignacio at the B&B |
| Yosemite/June Lake | Dreamy forest fairy site with boulders and a stream with trout where we accidentally met up with our friends from CA again. Glacier point with the night sky and the hobby astronomer. June lake began to feel like home because we got to know the people |
| Kings Canyon | Dreamy unofficial campsite with our private huge sequoia grove and river |
| Valley of the Gods | Drive to it on Moki Dugway and the amazingly peaceful experience with the sunset |
Disappointments:
Car Mechanic in Beatty did dishonest work
Las Vegas was not so special for us
Difficult to get airstream in road worthy condition fast enough
LA medical experience (costly, confusing and bad performance)
Not getting to go to the national Airstream rally
What we would like to do next or regret not getting to do this time ...
Yellowstone and Glacier
Lake Louise, Banff and Jasper ...
Canyonlands ... but when Robin can really hike ...
Lake Powell and Antelope
Really seeing New Mexico and Texas
Experience a national airstream rally or caravan
New Insights:
How lovely the adobe buildings are that they blend into the landscape
That we 3 made it through a year in such a small space so enjoyably!
You can bring your child with you ... no problem
How prejudiced (and scared) Americans are with respect to Mexico (poorer lands) (Like Germans are regarding Polish)
You have less time than you think ... more chores than you think ...
The Weather is unimportant ... we enjoyed it all. (except for Houston heat and humidity) ... but then we didn't have so much rain, even not in the rain forest
Things that are (not) true about America/Americans:
Beer is actually good, better choice than in Germany
Health food is available
People are not superficial
Mexicans do work hard
Coffee is good at Starbucks
Parents are very concerned about the decency of the language of their kids (conversation at Ed and Michelle's)
Many religious people (we met several missionaries etc.)
Our Party Invitation
The slide show was not as well prepared as it could have been, but everybody said they liked it so let's just believe them...

September 15th 2007, Berlin, Germany


US Trip Decompression Party


Freitag, 21. September, 17 Uhr
Buttmannstr. 17, 13357 Berlin, HH 2. Stock

Ein Jahr im Wohnwagen:
Vom Regenwald ins Tal des Todes. Die Party mit zwei Gesichtern: Erst familienfreundlich, später laut. Wir wollen zwei kleine Beamer-Vorträge machen, einen so um 18 Uhr und einen so um 22 Uhr. Schlafgelegenheit für Kleine und Große ist vorhanden. Ihr könnt gerne etwas zu essen mitbringen, für Getränke sorgen wir.
---
The Trip, Reversed
August 30th (Berlin Germany)
[Michelle] We and all our 250 pounds worth of stuff arrived safely at Berlin Tegel. Wolfgang, Astrid and Gudrund met our flight and we packed our stuff into 2 cars ... We were back and ready to sleep for a week. We were looking forward to seeing family, friends and their new kids, eating yummy raw milk cheeses, yogurt, bread and drinking that good ol' german beer. Finally we could appreciate some of the luxuries in life again like hearing a good piece of music on a good stereo and taking wonderful baths in a bathtub with tall sides and feet! Yeah it is great to travel and it is great to be back at home!

It is a bit hard to leave the USA because I will miss my family, friends and their kids ... I am sad that Robin will rarely get to play with his cousins and the kids of my friends. In general I find the people and the atmosphere in USA to be optimistic, motivating and cheerful ... which difficult to find here in Berlin. I will also miss that big open sky, endless coastlines and landscapes that bring you peace by just soaking in them.

[Peter:] We have arrived safely in Berlin on August 30th despite some complications like a forgotten suitcase (thank you so much for getting it, Tom!) and cancelled flights which meant crossing London with 250 pounds of luggage plus car seat, stroller and carry-on — and we had put the really heavy stuff in the carry-on!

If you haven't heard from us it's because we are so busy with things like making our appartments baby safe and getting a kindergarten place. Even my own father had to call me... For the same reason the weblog is stalled. I know that some of you are waiting for pictures from the grandiose Southwest — they are coming, I promise. Probably we'll upoad them before the party because we need to sort them for the presentation we'll be giving.

Before we left the US, we were fortunate to find affordable storage space for the Airstream and we could leave the truck with Tom, so that it will hopefully be right there when we fly in for our next vacation.

August 24-29 (Houston)
[Michelle:] We swam in mom's pool, visited her at the Houston Racquet Club (HRC) and ate lovely meals. She gave Robin a very important job ... that was to pick out 6 toys for the daycare center at the HRC ... we had some fun visiting various toy stores. He picked out a mini grocery cart (and enjoyed taking goods from mom's pantry and wheeling them around). He fell in love with a miniature titty pink baby grand piano (just his size). He chose a dragon rocking horse and a ladybug sit and scoot vehicle. Robin got to play with these fun things until we left ... it is amazing how adults would pick out different things than he did ... Sondra said that his toys were a big hit at the daycare center.

The day we left for Germany, Peter went on line to check us in. Our flight to London Gatwick had been canceled and we had been rebooked onto a flight into Heathrow. It left 2 hours earlier than we expected and we had to leave for the airport immediately. We had 250 pounds of luggage ... 4 massive boxes each 51 pounds, massive suitcase, 3 carry ons, stroller and car seat ... we would not fit in a taxi cab ... luckily Tom could take us in our truck with all the stuff in the back. We arrived at the airport with Tom's help and one suitcase was missing ... the one with all our important papers ... Tom drove home and retrieved it. We made the flight but did not know how we would make it across London in 1.5 hours to our connecting flight when we would not fit in a Taxi ... in the end it all worked out ... we took the bus.

August 19-23 (Woodlands and Conroe)
[Michelle:] We arrived in the Woodlands and stayed at a fancy RV park with a bathroom as fancy as those at Houston Racquet Club and a library. Wow. We swam and sat outside in the humid Houston air ... while all of our neighbors sat in their airconditioned fancy busses and watch TV.

[Peter:] One neighbour actually stopped by and said that we could come any time in order to recover from the heat in his cooled rig – he clearly could hardly imagine to live through the day without air conditioning.

We had of course considered to install AC but had not done so for a couple of reasons: It would make us dependent on electricity, was rather expensive, would be loud; and last not least my motto was that I would not want to be in a place where I don't like to be outdoors. What sense does it make to go somewhere in your RV and then stay inside?? We could have used an AC a couple of times, in Death Valley and sometimes in Baja and indeed in Texas, but overall we did fairly well without one.

[Michelle:] Clearly we were not their target customers since we were in an antique Airstream (unpolished) with a work truck as the towing vehicle. When we tried to extend our stay, they lied and said that a big rally was coming in that night and that the entire park was over booked. We were offended by their lie, on the entire trip we never experienced a prejudiced person, in fact mostly we got special treatment because we had such a museum piece, an interesting story to tell and an adorable little boy. We left and found another standard campground and then moved our little Airstream to Tom's house to clean out and prep for storage. We backed our airstream into a covered garage like storage space and went to Houston to spend the last days with Sondra.

[Peter:] The night when the owner told me that the place would be full next night, so sorry!, I was unshaved, bare foot and in a white T-shirt that I had worn all day, probably even when I had fed Robin. The office was closed and I just ran into her by accident after having finished the self check-in.

I remember distinctly her looking me over. But she was very polite and professional and did not betray her spontaneous decision to effectively throw us out the next day. The next day we went back and checked the place out because the story rang so hollow and indeed, the place was only half full as before. We wondered whether we should do a late self check-in again and pop into the office the next morning, beaming "Oh now isn't that nice that the convention is delayed!" ... but to what avail. Anyway, this episode somehow hit us pretty hard, even if we could understand the manager to some degree.

August 19th 2007, Houston, Texas
[Peter:] We arrived today, in time to see Shir and Ron before they fly to Israel. We'll have 10 days to wrap things up before we fly out on the 29th. Most important: We still need a place to store our Airstream for the next year, as affordable as possible, so if you know one, please holler.

August 18-19 (Drive to Houston)
[Michelle] We stopped in Hilsboro to check out an Airstream community where we hoped to find out if we could store our airstream while we are in Germany ... Nope, this is a functioning community where the people live in their airstream and share a common land/buildings. We could have stayed there overnight but we needed to make many more miles to reach Houston in time to see Shir and Ron before they flew to Israel ... so we kept on truck'n.

August 15-18 (Palo Duro Canyon, Amarillo TX)
[Michelle] Yoooo whooooo ... We are cruising to Texas ... as we passed through Amarillo we could not find the Cadillac ranch ... we checked our guides, took the proper exists and we just did not find it. Grrr Damn. Anyway we headed toward Palo Duro and I saw a Palo Duro Trailer park with some shiney Airstreams on the way to the Palo Duro state park. I had reserved and paid for our site at the state park in advanced. A sickening feeling arose in my stomach ... Perhaps the Airstream convention is at the trailer park instead of at the state park ... ooooops! We turn around and asked. Yup! Everyone was gathered in the common house having a pot luck dinner ... and we explained my mistake and said that we would be back the next day after clearing things up at the state park. We arrived at the state park where I had reserved the site for the day before ... oops again ... I was considered a no-show and would have to forfait my 20$ deposit ... the forest ranger grinned and gave us a child friendly site with a playground close by and did not charge us for the night! Grin! All ended well! We loved the state park and had wished that the convention was there instead. I did not know that Texas had such a lovely canyon ... Tom would love this place, so I took lots of pictures to show him that it was worth the trip. Anyway the next day, we headed to the trailer park ... to be real proud airstreamers.

Yes the North Texas Airsteam Club headed by Lillie and Ewart has new members! Robin is now the youngest ... we are no longer "Airstreamers at large" ... we have our airstream family. We were greeted with open arms and they were a sweet bunch! They even made a special bag of toys for Robin as a welcoming gesture. He got a windmill, american foot ball, stuffed animals etc. In fact, peter and I won a door prize which was a DC fan ... which we really need in our little air-conditioner-less Airstream. We got to know the members by going to lunch at a famous diner, visiting the panhandle plains historical museum (which was great! I even got to sit in a side saddle) and by participating in the cowboy breakfast and seeing the Texas show musical. The best part was the hanging around the campground, seeing everyone else's airstreams, getting to hear stories and get to know the other members!

As we headed toward Houston we went back and found that darn ol' Cadillac Ranch ... it was way cool ... I wrote Robin's name on one of the chassis with white spray paint ... it is a cool sculpture of 10 old cadillac sticking out of the round at a 60° angle out in the middle of a field ... where it always changing because the visitors are allowed to do graffiti on it.

August 14th 2007, Cortez, Colorado
[Peter:] We spontaneously decided to got to Monument Valley instead of Canyonlands after seeing a Monument Valley postcard in a gift shop and realizing that most of the Canyonlands is accessible only through four wheel drive roads. The trip along Route 12, 95 and 261 was also one of the most beautiful drives on our trip. Frequently we stopped and thought that this is the most beautiful vista so far. The most spectacular drive was down Moki Dugway on Route 261, a steep unpaved stretch of serpentines with a magnificent vista over the sandstone landscape north of Monument Valley. After the recommendation of a fellow traveler we also drove through the nearby Valley of the Gods. Dramatic sandstone monument landscape, as always in the golden evening light, and less crowded. Wait until we upload our pictures! ;-)

August 14 (Cibola State Park, Albu)
[Michelle] We are trying to get to Amarillo by tomorrow because of Airstream convention so we are whizzing by Santa Fe ... we will save New Mexico for another vacation ... it is not too far from Texas. Anyway shortly before we reached Albuquerque we got off the main highway and took a "short cut" through the mountains. We could see that there was a way on small roads and if we were lucky it would dump us out on I-40. We took a chance and had trouble finding the gravel road which led up to a ski resort ... we were hoping for some nice views. Anyway after winding through a steep and curvy neighbourhood we asked a woman who was walking her dog ... "oh yes you and your trailer will just fit on the single lane gravel roads" she continued "my sons love to camp up there ... there are 2 pull offs where you can camp and probably also turn your rig around". Hooray ... we set out on the adventure with stone bridges and low canapés of tree branches. We arrived just at dusk. The picnic area where we camped had lots of babbling brooks and even a pit toilet. We slept there very nicely and awoke to a sunny clear day and a lovely way down to I-40.

Being farther south we could also visit Mesa Verde, one of the main archeological sites of the pueblo cultures which inhabited the area 800 years ago before they left towards Rio Grande and other places. Some of their pueblos were built under cliff overhangs which protected them so well that we can still admire them today.

August 13 (Mesa Verde)
[Michelle] We stayed in a nice manicured trailer park in Cortez where we got a back corner spot where Robin could play in the grass without getting into any traffic. It was a good find. We were also in a town where we could get photos developed ... so we did. Everyone warned us that it is really hot and that you don't always get tickets for the different tours. So we headed in early to Mesa Verde and bought tickets for Cliff palace and Long house. While we were touring Long house a lightning storm came in. It was thrilling and cold and rainy. One forest ranger gave me and robin his jacket ...it was amazing how well the cliff dwellings were sheltered from such weather. I loved to stand in the opening of the cliff with the wide view and see how the storm swept in and how we still remained dry. After our first tour we were not sure we would get to do the second tour ... no problem ... the sun came out and we did the cliff palace. I would have enjoyed doing a hike or two but there just was not enough time and we had seen the most spectacular ruins!

At the nice manicured trailer park we met a couple who had painted pictures in the windows of their very fancy bus style mobile home. They were a religious couple who sponsored many young people in third world countries. One girl, who had lived with them to study art, had painted pictures that they were selling to raise money for her family. We bought one for Anja because it was perfect for her ... two souls dancing in a colourful space. Anyway the couple started off saying ... imagine her family has no TV, no Telephone, no air conditioning, no internal plumbing or running water ... they live in real poverty ... Peter and I looked at each other and started to laugh ... that is exactly how we were living ... and we are as happy as can be!

August 11-12 (Monument Valley)
[Michelle] Peter got up really early to photograph the sunrise. He carefully prepared a shot behind a group of asian tourists silhouetted in the sunrise ... click ... the group of young people began apologizing and cleared the space in front ... Peter tried to explain that he wanted them as silhouettes ... anyway the one shot was a very good one! He made beautiful pictures as I slept in with Robin. When he returned we made breakfast and disconnected the airstream and went for a drive through the park. Yes it was impressive but I really loved the Valley of the Gods and Capitol Reef more. All of the tours with jeeps and horses were guided ... and there was quite a lot of tourism! [Grin. Peter]

August 10 (Hanksville, Moki Dugway and the Valley of the Gods)
[Michelle:] At breakfast the next morning we reviewed the postcards in the restaurant and then we changed our plan ... instead of going to the Canyonlands National Park ... we decided to go to Monument Valley. Canyonlands would require lots of hiking and 4 wheel drives to see anything ... so we decided to save that for another trip when Robin is older. We headed south crossing the Colorado river through the white canyon towards Natural Bridges National Monument. We did a lovely hike to one of the bridges and enjoyed a rest. We then drove south on 261 to the spectacular Moki Dugway. Signs saying " Moki Dugway is gravel with 10% grades and switchbacks 2.2 miles. Towing trailers not recommended". We have learned the difference between "prohibited" and "not recommended". With our good turning radius, slim width and good towing vehicle ... we were able to easily conquer all of the "not recommended" places we encountered on this trip. We were soooooo happy that we took this route ... it was like being in spaceship looking down at a planet ... it looked unreal and the colors were curious! We drove down taking stops to appreciate the view ... earlier in our trip we met a funny old man that said "If you go to the valley of the gods, you have seen it all ... monument valley was too touristy for him." So we heard him loud and clear! We drove down to Moki Dugway, found a lovely bed and breakfast on the entrance road to Valley of the Gods and disconnected the Airstream. It was dusk and we started the loop ... ohhhhhh my oh my oh my. It was so quiet, so mysterious and so beautiful. We saw maybe 2 cars the entire trip. Peter kept hopping out to climb hills to photograph the sunset and the sky ... It was like a quiet wind had washed over my soul. It was dark by the time we had picked up our Airstream and tipped the B&B owner. I would have gladly stayed there that night. I can highly recommend it to anyone doing a vacation in this area. Valley of the Gods Bed & Breakfast (owners Gary and Claire Dorgan) PO Box 310307 Mexican Hat UT 84531 www.valleyofthegods.cjb.net Tel: 970 749-1164. It is a restored old ranch house with a big porch and tiffany style lamps and old rustic wooden furniture and quilts. Peter did not want to stay there but rather keep on truck'n to Monument Valley. So we did and we did reach the Indian reservation but all gates were closed. We found a small camping sign and hoped that no one would be mad at us for setting up camp. The next morning we went and paid our fee and found out we were in the original campground that was currently under construction ... we could stay there another night. We had the best campsite!

August 9 (Calf Creek, )
[Michelle] Today was the day that we realize the Robin understands us ... he would bring us things that we asked for ... ohhh wow! Anyway we drove to the Kodachrome basin and went for a walk and then we went to the Escalante Petrified Forest State Park and went on a big hike up into the hills where there was tons of petrified wood in beautiful colors. It was very exciting! You could really see the rings of trees which were petrified. After our hike we were really very hot so Robin and I went for a lovely swim in the lake. We would have loved to camp here but we felt we should keep on truck'n. So we continued through the Grand Staircase-Escalante National Monument and then got to a very interesting area where we pulled off spontaneously to see if there was room a camp ground. Wow! This was a dreamy recreation area camp ground with very private sites with huge cliffs. As you drove the loop you had to drive through a river to get the other side ... every site was full and we were sooooooo disappointed. We stopped to chat with the host ... and as things often seem to go ... she said that we could pull into the corner of the lot and set up camp in an unofficial spot ... yipppppeeee! We did and it was excellent. That night as we were sitting outside looking at the stars when Peter noticed something crawling on the stone wall where we were sitting ... they were translucent scorpions ... they were beautiful ... I was scared for Robin's life ... we fled to the Airstream interior. Next day we learned that a bite from these scorpions was like a bee sting ... not worse ... not deadly. Pfffew! Anyway when we were making breakfast ... Sue and Chris pulled in to camp ... what a reunion ... we all laughed again! Took pictures ... exchanged addresses and said that we are certainly destined to know each other. Sue is a nurse by profession and she gave us the tip that you can use liquid Tylenol from the capsules directly on scorpion or bee stings ... she gave us some capsules for emergencies. Peter, Robin and I did a lovely hike in the valley ... Chris met us on the trail and proceeded to the water falls. It was fun because there was a printed guide to point out the Indian paintings and food storage caves.

After the refreshing hike we continued our drive in the high lands between calf creek and Boulder. These views were awesome! We stopped every few miles and just looked out over the plains below and the rock formations. The air was cool, clear and crisp. We could have camped for free in this Dixie National Forest but it was just too early to stop so we continued the drive. We though that this was devil's back bone (which was highly recommended by a forest ranger) but it was not ... devil's back bone was very close and would have required a 4 wheel drive. NEXT TIME ... for sure! This area is fabulous! We drove further and arrived at capitol reef national park. Ooooeeee. I had never even heard of these places ... they are gorgeous with these huge red stone masses. We stopped for a picnic and a photo shoot. We kept driving on until it was quite dark and quite late. We stopped an ugly campground in Hanksville and ate a steak dinner at the restaurant. There we caught glimpses of postcards of Monument valley, the Canyonlands and Arches national park.

August 8 2007, Bryce National Park, Utah
[Peter:] We have decided on a tight schedule on our way to Texas where our journey will likely end. The airplane leaves on August 29th, we want to be in Houston by the 19th in order to wrap things up like storing the Airstream, and we want to attend an Airstream Rally in Texas that starts on the 14th before that.

We still did not want to miss some main attractions that are more or less on the way, like Grand Canyon, Zion Canyon, Bryce Canyon, Canyonlands and Arches National Park which leaves us with just two nights per destination. Two nights is the pure minimum: we usually arrive at night and need to leave so early on the day of departure that there is no time for hiking and exploring. Staying a single night somewhere simply is of little use.

We won't have time to update our log much during that phase and plan to do so in Houston. We explored Grand Canyon "in depth", staying in Grand Canyon West walking out on the new Skywalk, the classic South Rim destination and finally even on the North Rim. Two days ago we stayed one night only in Zion, and the last two nights we spent here in Bryce Canyon which is lovely, partly because of its elevation of 8000 feet which makes it cool and pleasant.

Today we'll leave to the Canyonlands, we plan to drive two days taking the scenic route 12.

[Michelle:] Well on the way to Bryce we stopped to develop fotos at a grocery store ... and in our shopping daze we forgot the laptop in the grocery store in Kanab ... we realized this as we were setting up camp in Bryce. Luckily it was still there ... everyone in the shop wondered why a computer was just sitting on the counter. That meant that peter would drive back and pick it up (6 hours round trip). Robin and I had a day at Bryce together. We checked out the hoo doos (strange sandstone, people like, structures), horses and the lodge. We met a family of 3 kids of one of the forest rangers and Robin played with them.

The next day we went back to the main area and hiked into the canyon to Queens garden and did the Navajo loop and it was spectacular. The Indians had always stayed away from this area because they thought that the hoo doos were petrified dead people. I can completely understand their hesitation ... it is really weird! (Check out the picture page.) We had a lovely blue sky day which really allows the peach/orange/gold colors of the sandstone to glow.

Guess who we ran into ... Sue and Chris who are the hosts from Grand Canyon North Rim. We laughed a lot! ... and then decide to stay another day ...

August 5 (Zion)
[Michelle] We were surprised by Zion ... there are salmon colored bald mountains with a large checker board pattern scratches made by glaciers. Many of the rock formations reminded me of the plasticized human forms from Körperwelt. At one of these look outs we met Rob Epstein (Photographer) with his new 2007 Airstream and very fancy digital camera ... sweet! Very sweet! He mentioned that his camera alone was worth more than the Airstream, imagine that! It was clear that we both enjoyed checking out each others "Heim" but neither of us would have switched! One feature that charmed me was that the shower head could be fed through a mail slot so that you could also shower outside ... nice touch!

While we were in Zion we went on a wonderful hike where we saw mountain sheep. We hiked through the canyons where the sands were yellow and peach and red. I had visions of making a tacky sand art painting or a jar with layers of different sand colors and loving it ... oh how I have laughed at such souvenirs in the past. Anyway as we were hiking through some canyons we met 2 kids who were exploring because their parents car had been broken down for hours. We gave them the tip that there was a very cool old tunnel which we had explored and told them about the mountain goats ahead. They were conscientious ... that said that they had to first go tell their parents where they were going and then they would check these things out. Well when we saw them later as we were about to pass the broken car, we stopped and spoke with the parents and raved about how conscientious their kids were and how we hoped that Robin would be so good at their age ... As we arrived the parents were so stressed out and yelling at the two kids ... after we intervened and told them some of our antidotes and complements they changed to being in a good mood. After our visit everyone was laughing and smiling ... especially us because we had made a difference to that familie's vacation.

August 3-4 (North Rim, Grand Canyon)
[Michelle] As usual we heard from everyone "ha ha ha, you have no chance in hell of getting a camping spot in Grand Canyon". Ha ha ha we have more than our share of luck (or perhaps charm ...). Anyway we pulled into Grand Canyon North Rim campground and the people ahead of us in their moderate sized RV had a sad look on their face as they turned around in search of an RV park outside the National park ... I decided to ask anyways ... the forest ranger was a lovely woman in her 50's with a long grey pony tail which looked a bit hippie like ... Robin and I greeted her and asked about availability. She told us that she was sorry to say that they were full. OK I said and we continued to chat a bit. She asked if that lovely old airstream was ours. I proudly said yes and told her about its history and our trip ... she smiled and said with a twinkle in her eye ... I bet you could "squeeze" into a tent site ... and we could let you park the truck here in the front lot. GRIN ... oh joy! It was just for one night but we were so happy to be in the national park. The next day we pulled the airstream into the front lot and made ourselves a lovely breakfast ... Chris (one of the hosts) came by on his bike to chat with us ... "what? You are leaving? Well, let me see what I can do" ... as he went to the forest ranger station a young woman coming back from the shower said "I am leaving a day early, do you want my site for tonight?" Yipppe yahoo! We were "in" again. Funny we got to know Chris and Sue and kept meeting them accidentally at other national parks (Bryce and Calf creek) when they had their days off. They normally live in Arkansas and have said that we could store our airstream on their property if we are ever in the area!

While we were at the North Rim there was a native Indian culture program. We went to see the native American dancing and to the lodge to see the sunset. It was a bit like the Timberline lodge on Mt. Hood in Oregon. We let Robin play on the red leather sofas and slide on the smooth wood floors. Unfortunately we could not eat in the dining room because it was already over booked. We just sat back and enjoyed the beautiful sunset over Grand Canyon. The day before we arrived at the north rim, a young man fell to his death at the point where we sat watching the sunset ... he was clowning around while posing for a picture for his girlfriend and sister ... that really made me think and worry about all the men I love who clown around! Please be careful my dearest playful boys and men! (Strange that I do not worry about the girls and women in my life ... they just do not seem to clown around that dangerously.)

August 2 (Grand Canyon and then Tuba City, AZ)
[Michelle] We enjoyed a leisurely way along the south rim to desert view at Grand Canyon. Desert view had a lovely stone observation tower designed in 1932 by Mary Elizabeth Jane Colter. (See a brief history and more of her stuff here.) It is a composition of different ruins from the South West with a lovely interior dedicated to Indian art (mainly cave paintings and petroglyphs) done by a Hopi Indian. I looked for my favorite man and woman figures from the Hopi Indian caves but did not find them ... their huge private parts probably made them unfit for the family audience. Anyway we had a nice lunch there and chatted with 2 people we met under a tree who were missionaries in Turkey (now living in TX). The watch tower was so lovely, the view so immense and the Indian jewellery so classy. Peter bought me some lovely ear rings which I hope I will never loose! (I think this is the first jewellery that Peter has ever bought me, wow!) Afterwards we drove northeast, the high plains came into view with the canyons of the Colorado cutting into the high meadows ... we were lucky enough to have the sun shining on the green flat highlands while the canyon cut below ... my favorite view yet! Unfortunately we could not find a safe place to pull off the highway to photograph it ... by the time we were able to turn around the storm had set in. We continued on to Tuba City in search of a mechanic to look at our clutch ... it has become a bit soft and sticky therefore we wanted it to be looked at. (Note that 2 other mechanics have said, don't worry until you have trouble changing gears ... mmmm no thanks).

Anyway right now we are in an RV park with electricity ... hooray ... and I am drinking a beer while watching a "Maxfield Perish" style sunset from my little window in the front of the Airstream. Dreamy! Peter has taken Robin for a walk to find a rainbow ... we are having stormy and sunny weather at the same time while the sun is setting...

July 31-August 1, Grand Canyon South Rim, Mather Campground, Kaibab trail
[Michelle] The Grand Canyon is so big that it is difficult to relate to it ... it just looks like a big painting rather than a real place. So to get intimate with this natural wonder we decided that we must hike down into the canyon itself. We hiked the South Kaibab trail to Ooh Aah Point which is only about 2 miles but has a loss of 600 feet (183 meters) elevation. At the trail head we sadly read about many deaths (one including a young female marathon runner) from people who have died on this trail trying to go down one side of the canyon and up the other in one day. Unlike mountain climbing as you easily go down it becomes hotter and hotter and then you have the hard work of climbing up ... usually when your water reserves are at their minimum and you are already exhausted. From the heat exhaustion and thirst the people become delirious and do crazy things. It is very difficult to pace yourself and there is practically no shade and absolutely no water ... Anyway, our hike was fabulous; we had a nice cool day and plenty of water! The layers of sandstone were colourful and full of fossils. The views which included a rare view to the east were breath taking. We returned to the top of the trailhead just around sunset and took the shuttle bus to the other views and then on to our campsite at Mather campground.

July 29-30, Lake Mead and Grand Canyon West, Meadville AZ
Whoa ... I just did not expect Lake Mead to be anything special. We did not even know that we would pass through a national park ... eh ... what a treat. Blue blue waters and desolate landscapes ... we wanted to stay in the campgrounds on the lake but ... too too hot babe ... for my babe that is ... 108F ... 104F is our limit and that is not so nice actually ... since we have no AC or even a DC fan when we do not have hookups ... so we kept on truck'n. Truck'n like the doo daaaa man. We ended up in a small campground in Meadville. From Meadville we were able to disconnect the Airstream and explore the area. On Monday we visited Grand Canyon West which is located on an indian reservation. They are trying to develop a tourist attraction with various activities. It is rather expensive at 70$ each but I really enjoyed our day. We got to walk on the glass "sky walk" and Robin loved crawling around looking below. We met many people on the sky walk and chatted and also enjoyed the views. Afterwards they shuttle you to Guano point where we had a lovely BBQ dinner with yummy cold slaw, corn bread and cake. We got an extra show from nature ... 3 thunderstorms came in from the distance and we got to hear the thunder in "stereo" and see the flashes approach us. Finally at least one of them reached us and we had lightining and thunder and extreme winds. Quite exciting. Peter, of course, was right there in the middle of the storm ... taking pictures while Robin and I huddled in the kitchen where the cooks fed Robin chicken and cornbread and let him sit on the food warmer cart. The indian ladies just wanted to hold him and play with him. The Taiwanese girls wanted to be photographed with him and to video tape him. No matter what nationality or what age ... Robin touches their hearts ... I love to watch them fuss over him!

Anyway at the end of the day I said to Peter "I don't mind spending so much money on this Sky Walk and visit to the indian reservation, I think of it like a donation to the indians". Peter smiled and said " you mean a donation to the millionaire investor". Hmmmmm he had me on that one ... and we both laughed our heads off.

July 27-28 (Las Vegas)
[Michelle:] What a strange place! Peter and I were excited about seeing the places that we had read about in the books on the MIT black jack team.

[Peter:] Probably the biggest disappointment on the trip. Compared to the "sublime" (John Muir) or at least quiet places we had seen in the past months Las Vegas felt cheap and ugly, too full of normal people. The real attractions are few. Of course we were not in the position to enjoy much of the city's charme that unfolds mostly at night, at least not together. Being parents changes your life style!

And although I have a gambling streak (after all, my wish for my 18th birthday was to visit the Casino in Hannover), I didn't really feel like diving into the vast halls of gambling tables and playing through the night in a rush. We were too far away from that kind of thrill. Michelle went to see a Cirque de Soleil show though so that we got at least something out of this stay.

July 23-26, Los Angeles, California
[Peter:] We are back in the "real" LA. We are fine and had a good time in Baja. More shortly.

July 22 (Mexican Border)
[Peter:] We crossed over the Mexican border a bit farther east in order to avoid weekend traffic which worked only halfways — we still spent more than an hour in stop-and-go traffic, uphill, in the smoldering heat. Then I had to go through the American immigration again which took at least another hour, if I recall correctly; perceived time: 5 hours.

That night we stayed at South Carlsbad State park which was quite an achievement since normally one has to reserve years ahead... but we met an assistant employee locking up the office who knew that a few reserved spaces had actually not been claimed. Fantastic site directly above the bluff. We watched teenagers having their surf lessons.

July 20-21 (La Bufadora, La Jolla)
It was low tide but the water flowed in and out like the rise and fall of the chest of a huge monster ... even at low tide she huffed and puffed and spit vaporized water up the cliffs with a lovely geizer noise. Very impressive. One could see how it worked ... just an obscured list in the rocks. Her blow out would last for many seconds ... sometimes just vapor and other times droplets. It would be great to see her at high tide or during a storm.

Anyway, Robin attracted all the attentino with his funny walking and laughing and chatting. ~20 people were so fascinated with him that they kept missiong the big blows from Bufadora. A little mexican girl had soap bubbles and Robin was fascinated with them.

I loved the unexpected view of the beautiful cliffside lots filled with tacky old trailers ... million dollar lots with million dollar views with a broken down trailer with a family celebratine by a campire ... great juxtaposition ... Darn, I should have taken pictures of various trailers in Mexico for a fun wall hanging ...

July 19 (San Jaciento point, the shipwreck surf colony)


July 18 (Santa Ynes)
On our way to Catavina we did a little detour. We wanted to see Mission San Borja which we had not ventured to do from the eat side (while we were in Bahia de los Angeles). Anyway we found a lovely little truckstop/restaurant and asked the women inside if we could leave our Airstream in their parking lot. This was one of the cleanest restaurants we had visited ... it was run completely by women and they made it especially nice, even with flowers on the table. The food was very good ... I had a pan friend fish and it was one of my best meals in Mexico. Anyway, we had lunch and then headed to the mission.

At the mission we met Jenaro, a 16 year old self appointed tour guide. He told us all about the tragic history (at least 1500 indians died from overwork) and the architecture and what he and his dad were doing to restore the church. It took us through the gardens where there were pomegranates hanging from bushes and grapevines with ripe grapes. They had 3 natural hot springs and while we were there, friends and family of his stopped to visit and to bathe. We left so they could enjoy the baths without strangers. He could speak some English and we joked a lot ... at one point he had to pee ... so he said that "he need to water the trees" ... 5 minutes later Robin wanted to nurse ... so I told him that "I needed to water my boy" ... he laughed. He was so curious about computers and internet ... it was difficult being a 16 year old in such a primitive town when you know what is out in the modern world. I think he will find his way ... we gave him a large tip for such a long and thorough tour.

July 17 (Guerrero Negro)
In Guerrero Negro we stopped to eat at an imbiss place where they put plastic baggies on real plates instead of using paperplates ... The cook and his wife cooked for Henry Ford Jr when he is visiting the animal breeding spoltfor antelopes in Vizcaino. He said that we should check out this operation, it is very interesting, but we decide to continue on our way back north.

July 14-16 (San Ignacio)
[Peter:] This is as much south as we will get on this trip. Time is running short – we have a long way ahead towards Houston with lots of major attractions which we don't want to miss. Each day we continue south counts double since we have to go north again. The main reason to come here are the cave paintings in the area. We won't regret it: San Ignacio is a stunning oasis well worth a detour on its own.

[Michelle:] As we crossed into south Baja we had to go through military control ... there they made up pay them to spray our vehicle with insecticide ... eeeeee ... I did not want them to but we had to comply ... later I wondered if they might be spraying drugs so they can bust us later.

We were staying at Terry and Gary's Bed and Breakfast. It was very lovely on an oasis. Most patrons stayed in yurts but they let us snug our Airstream into their repair area and eat breakfasts with the other guests in the mornings. The B&B was directly on the water and they had kayaks and life jackets for us to borrow for free. The Oasis was partly a wild life bird refuge and I loved just gliding up silently to see the different birds. There were all kinds if birds that I do not even know their name but there was a beautiful blue heron which impressed me greatly.

While we were staying in SI we went to see 2 different cave painting sites. To see these sites you have to get an approval from the instituto nacional de antropologia e historia. When we arrived at the office, the officer was in the square watching a football game at an imbiss. He stated that "the officer is very busy with important things right now but he should be back in the office soon". We laughed, grabbed a stool and watched the game with him. After we bough our liscences he used a short wave radio to make plans with the locals to provide an escort. These places were very remote and you could only get there with a high clearance truck.

The first one, Cueva del Raton, was in San Francisco de la Sierra. This is also where Earl Stanley Gardner did his exploring and found his famous caves. Unfortunately that was 3 days with donkeys and the officer said that it was too hot and dangerous for a toddler. We took his advice seriously. The drive there was spectacular with cacti and canyons and cliffs ... really fantastic. The poor village was also very fascinating with no electricity. Animal were everywhere. We gave some baby clothes to the new baby in the hut where we picked up our guide. As a tip we gave our guide a huge bottle of Apple juice and some water ... he really really enjoyed it.

The second one was to Cueva de Palmarito. It was a longer hike in the dessert (2 hours each way) and we must start early in the day. Robin really did get overly hot and kranky on our return ... poor fellow ... I finally had to stop the group to let Robin nurse and recover in the shade. Anyway the cave and paintings were wonderful. We had asked before our hike if we could have lunch afterwards and we could offer fruit and juices. Mrs. Lorenzo invited us into her home and made us a lovely lunch of beens, eggs with chorizo, rice and we added our cucumbers and fruits. We ate with her grandson who she was babysitting. After lunch peter and I juggled and played with the boy. He loved our juggling clubs! It was so fascinating to see the inside of a typical home ... the colors were intense, the animals (goats and chickens) wandered in and out of the living space.

Before we left San Ignacia we went into town to have a goodbye lunch and guess who was sitting in the town square. Mrs. Lorenzo ... the woman who cooked us a lovely lunch after our hike to the cave paintings. She was whooping to us and smiling like we were family. She loved to hold Robin and give him that Mexican motherly love. Anyway we went to lunch and little girl who belonged to the restaurant owner was playing with Robin and bossing and bullying him around ... she was quite cute but it was weird to watch.

At lunch we met 2 Canadians who gave us a tip to go thru the guadaloupe valley where grapes grow and cross at Tecate ... is an easier crossing and it will be new territory for us ... so we will do it. We then gave them a ride to the B&B where we were staying ... new patrons for Terry and Gary.

July 13 (Guerrero Negro)


July 8-12, Bahia de Los Angeles, Baja California
[Michelle:] The islands and cove have no traces of humans in view ... no roads/houses/anything, just this bare rocky landscape. Rocks having different colors – striped, chocolate, almond, mocca, and streaks of quartz in contrast with the turquoise water. It is almost like being in death valley but with water. Anyway as we are driving in on the access road we notice something strange ... there are telephone poles with no wires on them ... a bit closer to the town we see that they are just mounting the poles and starting to string some wire. Soon Bahia de los Angeles will have electricity ... right now, however, we will be off the grid! That means no fan, man!

The 3D optic of driving through this death valley type landscape with lots of cacti ... tall classical type but also these long skinny Dr. Seuss like cacti that have a tuft of twigs at the end ... curling and twisting ... some with obscene fur/spines along the trunk or tip. Some even resemble pony tail palms. Especially when the golden hour approaches, I think that I have seen black and white 3D images of this cacti landscape with those old fashion viewers. I keep having flashbacks that this is all soooooo familiar.

Wildlife ... oh yeah ... fin back whales, pelicans, colourful song birds, sea gulls, fish, sting rays (hundreds of them), colourful coral, boxy fish, angel fish and all sorts of fish I do not know what they are called. The Pelicans flying over head and then peacefully land and meditate on the rocks in the surf. Snorkeling was so much fun ... water temperature was ~78°F. Thanks to Will and Foster and their gear, I was able to do some snorkeling which made the stay so wonderful. After we did a snorkeling/scuba boat tour with Will and Foster made us raw scallops with lemon juice and pepper sauce ... yum yum yummy!

Americans dominate Bahia de los Angeles ... at our campsite they range from men-out-on-a-fishing-trip type to 4 guys and their ATV yahoos to 2 guys out to do some wonderful scuba diving. No way to rent gear so you have to bring all your own stuff. Now we know ... at bit too late. Anyway we received lots of food from others ... Fresh sea bass, grilled prime rib, left over fried chicken and fresh scallop ceviche. Yum! Our neighbors brought in yellow tails by the cooler full and they were gorgrous to look at. Proper ingredients like Wasabi would have been very handy!

It was quite hot and at times quite humid. The nights could be very tough when the air was not moving ... remember, there is no electricity on Bahia de los Angeles. Days were hot and sunny and you needed to siesta. One hot afternoon Peter, Robin and I did a siesta in our dried cactus hut ... we set up Robin's high chair with our video player and watched the Hitchcock film "39 Steps" ... It was wonderfully relaxing to sit on the cool sand and watch a black and white film drinking mineral water and fresca (grapefruit soda) with ample amounts of ice cubes (from town). Robin, as usual, played in a plastic box of sea water.

[Peter:] The other Los Angeles... a few hundred inhabitants, off the national power and water grid. A shop, a gas station, a couple of boat tour offers for fishing. Wonderful bay though, but not even a surf board to rent.

We will probably head on to Guerrero Negro tomorrow, a larger town farther south. We would like to see the famous mural paintings in the vicinity of San Ignacio, even farther south, but the summer heat is stifling our initiative and time is running short... let's see. Manana ;-).

July 7 (Catavina, Santa Ynes, (Baja California)) [Michelle:] Nordic walking in the central desert ... yes that would be a sure way to get rid of the elderly ...

Off season when the old people come down here to ... Peter answers, "surf". I had to laugh ...

July 5-6 (El Rosario)
[Michelle:] We stopped in El Rosario and dined at "Mama Espinoza's". We were lucky enough to meet the restaurant's founder, Anita Espinoza, who was born in 1910. I bought her biography and am enjoying reading about her history. She was really a dynamic woman and still is. She encouraged me to donate some things to the woman and children of the village ... which I will do on my way back through town. Before route 1 running down the entire peninsula was paved, her restaurant was the last stop before true wilderness ... the hard desert. She would keep track of people and send search groups out for those in need. One such search party was for a plane that went down in a sand storm. They found the plane and brought them to safety ... the pilot was a doctor ... he began treating the locals ... and then started coming back on a regular basis to treat the towns people ... at the end it was an organization of flying doctors who donate their time to help the people in remote areas.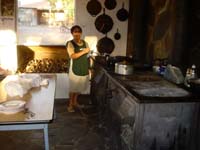 Zuleyka with the main farm cook weapon.
The beautiful wood burning cooking
range is older than the farm.
June 30- July 3 (Meling Ranch)
See the Meling Ranch picture page!
[Michelle:] What a paradise ... humming birds, roses, big shady nut trees (in the middle of the desert, eh ?), turquoise swimming pool with shady lounge chairs ... ranch style buildings made of flagstone, flagstone walkways, flagstone pool area, flagstone interior and exterior walls with spanish ironwork and mouth blown glass green and gold lights. Yummy meals made from fresh homegrown ingredients ... flank steak, zuchinnis, potato pancakes, tasty hot salsa with garden fresh peppers and cilantro, mouth watering cantalopes and watermelon.
For Robin there are all sorts of animals ... ducks, chickens, goats, dogs and hummingbirds. He can play in the pool and swing on the high rusty swing set with wooden seats with a view of the desert. He has lush green lawns to practice his "walking" ... looks more like sleep walking or the frankenstein dance ... and best of all he has lovely mexican ladies to flirt with ... they all just love him. He watches their every move ... they flirt with him back! Grin!
As I sit by the pool, I get to hear the lovely mexican music. I like their folk music ... it has the lively catchy beat of Herb Albert and the Tijuana band and yet the soulfulness of Alegria ... This really feels like pure luxury. Last night I showed Peter the entire scorpio constillation and then later he got out his mini telescope and he fotographed the full moon with the digital camera (through the telescope) ... it really looks good.
Well, time to jump back into the pool before we get ready for our hot desert horseback ride ... grin ... then there will be a home cooked dinner waiting for us ... did I say yet how lucky I feel. Lucky ... yup!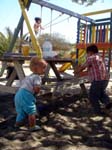 On the campground playground

June 29 (Posada Don Diego)
See the early Baja picture page!
[Michelle:] Oh how I wish we could stop at every bizzare homestead and take pictures ... but there is no way with the Airstream in tow and the dangerous drop-offs (elevated narrow roads with no shoulders). Anyway let me describe some of my favorites:
The back 3/4 of a VW bus turned into a tow trailor ... adorable actually ...
Complete homestead and house made of tires ... very cute and painted ...
Some yards are like sculpture gardens with lots of colorful things and old applicances ... old sinks, clothing washers, etc with plants growing out of them ... and some that seem to be jungle gyms for the kids. Is is junk or is it art?
Huge insect like vehicle with huge thin tires that has a fuselage that hung at least 3 meters in the air ... Peter and I decided that it must be used in the fields to ride over the crops without destroying them ... although it looked more like a weird ATV ...
There is something like the East German ingenuity at work here ... making lots of useful things out of very little ... I feel at home in such an environment ... unlike the Italian shicky micky glitzy environment.

Anway after trying to reach Meling ranch before dark and failing because we had and to do a big detour to get cash, we decided to stop at Posada Don Diego and continue into the mountains the next day. When I entered the restaurant at the campsite, Robin and I became entranced with a large black and white TV showing an old 1950's spanish musical ... it was so much fun to watch them sing and dance ... so well done ...at one point all the waiters (5) were standing in front of the TV grinning while a dance piece took place ... it was a lively flameco dance by a midget man (dressed as a woman) who was teasing everyone while the "beautiful" people danced around and passed each other ... it was truly hilarious. Anyway we had a few good meals there and got to do our laundry ... no drier ... so we hung our clothes on Finola's clothes line stretch out all over the top of our truck ... we looked like trailer trash but in Mexico that is the norm!
Cool golden Pacific evenings

June 24-28 (Malibu Sur RV Park)
[Michelle:] I loved the coast line in juxtaposition to the farm lands and mountains. We would drive the dirt road into town which would go by zuchinni fields and huge fields of flowers ... purple, pink, blue, indigo, yellow and white ... and then the road would ead through a river bed (which is tough to pass if it rains). As we would drive through town everyone (especially the children) would wave and smile at us. Anyway, one afternoon while we were in town, I played with the children in the street ... I showed them how to throw clubs and we did a triangle game where they would each throw a club to their neighbor after I said "uno, dos, tres"... it worked remarkably well. Peter and I also did some passing ... they loved it. We were trying to pass some time because the restaurant that we wanted to eat at was temporarily closed. After doing a few more errands ... we came back to the restaurant and had a wonderful meal while the Amy (7.5 years old) played with Robin. We felt like part of the community because all the kids knew us. We keep meeting kids who are american but go to stay with their grandparents for 3 months for the summer holidays. After dinner we chatted with the other patrons of the restaurant and one group had brought their own fish which was prepared by the cook ... they gave us their left over fish ... I made fish tacos for lunch for us the next day. Eat 'em up Yum! Our waitress was so adorable with her cute smile and black braids ... the cook was an older woman who made such a warm impression. She came out after dinner to play with Robin. What lovely ladies!

So ... here are a few more impressions of Malibu
I loved watching the black mom cat playing with her 3 kittens
Tide pools and waves were wonderful
Fields of flowers within a "Marboro advertisement" landscape
Going into town and seeing the locals – it seems like 12 year olds are driving cars ...lots of children hanging out of windows
I enjoyed how the children and adults enthusiastically greet you ... passing cars always wave ... you feel so welcome
People building homes cinder block by cinder block ... mexican style ... slowly
Many trailers with shacks attached ... infact everyone seems to have an old trailer
Trying to fish for sea perch --- but was weirded out by the sand crabs .. .so many of them ... like nests of cockroaches ... ickkk.
David, our neighbor, is american but seems to have a scottish heritage ... he is bulding his vacation home ... bit by bit ... 10 day visits ... he has seen lots of Baja and has chosen Malibu because of the micro climate ... cool and misty at a one mile strip along the coast until 2 pm due to cold Pacific currents and then clear blue skies
David let me use his fishing gear ... he told me the basic specs in case I want to organize my own setup. Fished but did not catch anything ... probably because I did not fish during best time of day ... dusk at high tide ...
June 22-23 (Las Canadas)
[Michelle] Crossing the border was just too easy! All of a sudden we were in Tijuana and could speed on to our campsite. No so easy baby! Peter realized that he had not given his immigration card back to the USA upon exiting. That must be done in order that he can get a new one when he goes through the border again in 30 days. Note that his 6 months visa would empire at the end of the day ... this was also one of many reasons for going on this Mexico trip. So we drove throughTijuana ... all over ... then to the US Consulate, who was no help ... she said that we would have to recorss the border again or at least visit the US immigrations on the border. We got onto the wrong road and we must go through the boarded ... on a Friday ... which is very very full ... we waited hours ... we watched all the juggling acrobatic kids begging for money ... it was a very long wait especially driving the truck with the airstream in tow. We got to the border ... got searched ... got released. The customs guy kept shaking his head and said "you just waited in that line, we are certainly punishing the wrong people". Anyway we got turned around ... went back over the border and started to head towards Ensenada. We were very very hungery ... we had not even had breakfast that day ... and I was a bit in a panic driving this rig in the mexican traffic with a few near accidents all around us. All I noticed of the beauty were the blue thissels on the side of the road ...
We got out of Ensenada ... past Porto Neuvo and went to a restaurant called Raul's. We had a big lunch and continued driving to the Las Canadas water park and decided to check it out ... it was really wonderful. Nice new park with all amenities ... not an RV park but a camping recreational park with a moderate entrance fee. We had access to electricity and water. What I loved about this place was watching all the middle class mexican families ... camping together ... with hundreds of coolers full of prepared food. I loved walking in the night to the different swimming pools and watching the kids ... jumping in the water having the time of their lives. It sounded like and looked like 50 Jims and Toms (Michelle's brothers) at the Spanish Trace ... I loved to hear all the laughing children's voices. They also had flood lights and loud mexican party music and paddle boats until late in the night. I loved the atmosphere ... friendly and family. Check this link.
Robin update: Peter filmed him walking on his own (Sat 23. june). He is really balancing and walking but mainly he is climbing on everything. He is a great climber! He loves ATV and trucks ... he peaks out of our screen window and points and says brrrrrrrm brrrrrmmmm ... he loves the motors ... especially motorcycles. He is getting to be so big and tall and he has lovely long legs. He enjoys the water! So far I just trust drinking water for his playtime baths. Check www.lascanadas.com.
June 21 (San Ysidro)
[Michelle] Today we took off to San Ysidro to sleep close to the border in order to get an early start to Mexico on Friday morning. Well there is a story to tell ... thank God it has a happy ending! We were still driving at approximately 12:30 midnight when a red (mustang or camaro type) car came from behind very fast ... we heard a crash behind us and the car sped on 2 wheels beside us and then turned in front of us sliding on all 4 wheets across to the breakdown lane. Peter kept steady and avoided a collision. We pulled off at the next exit to inspect the damage. There was none. He had not hit us and the debris had not hit us ... we can only assume that he did not see the closing of the left lanes and ran into one of the blinking arrow barriers. Perhaps we could see the merging better in our high up truck as compared to a low down race car. Anyway we really had not seen what had happened and did not know if the driver of the red car ended up in distress ... there were many other cars on the road that could see better what had happened. We sat for a good 10 minutes hugging each other and being very very thankful that we were spared this accident! After we gathered our composure we continued to the campsite. At the campgrounds, another camper was in our site and we were forced to pull into a different site. In the morning we learned that they were poachers ... they did not pay for the night! They assumed that we would not show up.
June 18-20 (Altadena)
[Michelle] We arrived at Leslie's on Monday eve 10 PM and met her house guest, Keith ... a lovely chap ... we enjoyed a 6 pack of Guiness together (we had brought it as an offering). We had such a lovely talk with him that we decided to take him to Silver Lake for dinner the next evening. That gave us the day to do laundry and for peter to see a doctor regarding his bad sinus infection. Ick! Anyway we dined very well at "Stella's" and then hung out at AgLago. Great to see everyone. Really like a homecoming. Ashir gave us a small piece of art. We saw everyone. Peter Johnson and Forest had performed a gothic dance piece (Forest danced/Peter did music) and I got to see some of the video of it. Really cool effects ... especially with the lighting.
June 14-18 (Kings Canyon and Sequoia National Park and Forest)
See our picture page!
[Michelle:] We backed the Airstream into the Wonder-Spot-of-the-Universe on Saturday morning (June 16th) ... Coordinates: Longitude 118° 54' 53" West, Latitude 36° 44' 57" North. How to get there: Take 13S09 towards Hume Lake and Tenmile until you get to a fork and go Left on dirt road. You will see a marker S-98 ... just dare to drive in 100 feet more and you will be there ... the old giant Sequoia will greet you with majestic peace.
Breastfeeding in National Parks
June 9-14 (Yosemite)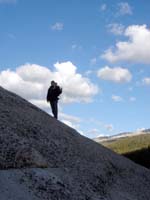 Climbing a Granite Dome

See our picture page!

[Michelle:] We did not have reservations in the valley ... thank goodness ... because we got to stay at porcupines flats ... that is a camp ground up in the highlands. Note that the valley is crazy, like Disneyland. We pulled in and conservatively camped in the front section where a sign said " beyond this point, not recommended for RVs". Peter went for a walk in the back section of the campground and we saw just how beautiful it really was ... wow. The next morning we snugged into a site (#49) in the back with huge boulders, a meandering stream with trout and fresh, lime green spring foliage and tall pines everywhere. At night there are large spaces between the pines to see the stars and I was constantly seeing deer with my flash light. In the morning I made a sick bed for peter in the sunshine on some fresh grass. He could soak up the sun, smell the pines and hear the babbling brook. Oh this is relaxation. So unlike the Yosemite valley with its Disneyland type attractions and busses ( I did however like the bike trails and tent city". Anyway the white colored granite is impressive! Some of the peaks look razor sharp and it is unbelieveable that erosion had not rounded some of the mountains ... anyway some of the shapes even look like building in NYC. Perhaps an architect has copied nature? I love to be here in our warm airsteam and bed and I love to watch Robin learn to master his own body and become better at communicating with us. I keep thinking of the book "Bears in my kitchen" and how it was to be in this park when it still was real wilderness. Peter and I have bought some books of short stories by Muir and they are wonderful at showing the wilderness of the Sierras! So far we have seen a bear, coyote, and many dear! We must be careful with our food! They say that you should remove your baby seat because bears will rip the door off to get at all the yummy cookies left in the cushions. Supposidly the bears do not attack hard shell campers so we can keep our food inside. Hmmm? I am not so sure about this advice? It is strange how many fashionable cars and motorcycle groups drive through the park. Especially the motorcycles. They create a thunder and dressed up in such "tough" clothes. Peter and I laugh out loud at this one guy with his "high trike handle bars" ... he was driving with one hand because the other hand got numb from the blood flowing out. That was one of the comments from the star of "Easy Rider" ... it was really exhausting to drive this cool bike due to the bad seat suspension and the high handle bars. Anyway our two friends from June lake saw our rig and came to greet us ... it was their wedding anniversary and we provided wine and they had shrimp salad and we had a cosy little party. Yosemite is impressive! We enjoyed a hike up north dome and pot hole dome. We went up to Glacier point and decided to stay until the stars came out. Yes, it was soooooo worth it. We met up with an older grumpy hobby astronomer who had a large telescope. He showed us M13 hercules cluster, M57 Ring Nebula, Thuban, Swan Nebula, M27 Dumbell Nebula, 2 star clusters with 2 colors, Venus, Saturn, Jupiter and their moons. It was so much fun! I had to think of all the star gazing we did at the farm and camp fern and I had to think of Leslie (astronomer).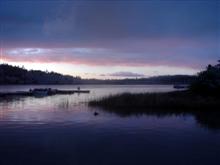 Sunset after the snowstorm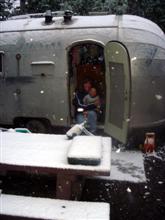 Winter again!

[Peter:] We had a cold front coming in the day before yesterday. At night it was freezing, and once more we were happy about our heater :-). Last night it really snowed about an inch or two. For sunset the clouds parted and we had a dreamlike setting over June Lake. The water was still warm from the past sunny days and steamed gently. A steam cloud hanging over the water can be seen to the left.

June 2 (June Lake, CA)
[Michelle:] Robin weighs 20.4 pounds. We weighed him on Sandra's candy scale in Mamoth Lake where we had just seen Shrek, the Third. We all met after the film and chatted in the parking lot. She invited us into her candy shop and Robin proudly stood (by himself) on the candy scale to reveal that he weighed less than I thought! I have been buying the wrong size diapers because I thought he was at least 23 pounds. Oops. That explains the blow outs ... even with pampers. Anyway after the weighing ... she gave us a lovely carmel, chocolate, pecan apple with we ate for dessert once we got back to the Airstream. People are so nice to us! We are constantly reminded how good natured people are!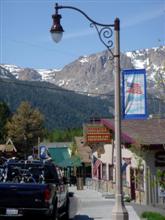 Alpine Backdrop at June Lake
May 25-June 5 (June Lake, CA)
[Peter:] How nice it is to see trees and lakes after 10 days in Death Valley! As beautiful as the Valley was in its dryness and with its earth tones — now we fully appreciate the colors of moist life in this more moderate climate.
[Michelle:] Wonderful little quiet town with 2 lakes (June Lake and Gull Lake) having beautiful snow covered mountains as a back drop. The locals are in such a relaxed good mood. They seem to be content with their sitution. Many are here because of the great winter sports but others are here working for the forestry department or establishing a business of their own. They have a wonderful playground, library, internet cafe, thrift shop and coffee shop with the best smoothies ever. I have enjoyed taking Robin to play group with the local women with their toddlers. The architecture is also very quaint ... a bit Swiss or German.
We have spent quite a bit of time here because it is so nice and also because it has allowed us to take care of some business. Peter has been to the dentist. We have enjoyed the use of electricity and internet access at the cafe to check emails, sort pictures and update the weblog. We have also done some maintenance on our Airstream and have even found the part we have needed to fix our chimney for venting the refrigerator at the thrift store (note: we have searched for 6 months in many hardware stores and never found it). Hoooray! I love this thrift store ... they hand you a paper bag and say "fill it up for 5$ a bag" ... oh joy I got baby clothes, baby cardboard books, baby life preserver, shorts/shirts/shoes for me, part for our chimney, pie pans, kitchen odds and ends, telescope and paperback books.
Just a few days ago we realized that the registration for our truck had expired ... so we have had to do some emergency action to get that resolved back in Texas ... oooo eee. Being on holiday is not always so easy as it sounds.
In anycase my favorite activities here in June Lake include: watching Robin learn to walk and master the jungle gyms and slides, Peter reading to me aloud: "All Creatures Great and Small" by James Herriot, sitting quietly in our campsite with a view of the lake in one direction and mountains in the other while listening to all the birds sing and of course eating well.
End of May, Somewhere in California
Update on Robin Alexander Maxfield
[Michelle:] Robin is not a baby anymore ... his is a little boy! His will is strong and his facial expressions and body language are clear and dramatic. He becomes frustrated or laughs out loud with full passion. He has even mastered the posture of complete desperation by holding his arms up like the christ child while throwing his head back and making the most soulful and painful moan. So little Robin has also earned the new nick-name "Kletter-Maxe" because he needs to climb on everything ... especially everything unstable and dangerous! He is a real monkey ... and knows enough to cling to Peter's T-shirt when going from here to there. He also really enjoys books. We got a bunch from the thrift shop and he can even point out a few things while I am telling him the story ... Peter and I read in the evenings and all this "blah blah blah" makes him try to compete by speaking and then he curiously grabs our book ... no pictures, how boring. Although he has now perfected the "oooooo icky" facial expresssion (which includes waving his hands around like he is trying to get rid of nats", he is a good eater. He loves adult food like grilled meat, raw garlic cloves, and coffee beans. Mostly he likes to nurse, and that is still a challenging situation ... he would nurse all day, if I would let him ... he also likes to make a scene in the hopes of getting to nurse. I hope this is just a phase! Playing in the water and sand is still a big joy for him. Unfortunately, I am still having to extract rocks from his mouth. He does like rocks, maybe we have not given him enough toys. On one hike at Zabriske point, he was all upset about something until I gave him a rock to hold. He smiles and was sooooooo content with that rock in his little paws. He does not crawl on his hands and knees anymore ... he has progressed to the bear crawl. He even can take 3 or so steps on his own or stand for circa 30 seconds when he does not realize what he is doing. He still likes to wrinkle up his nose and make that nerdy expression when he is trying to be "cute". I guess this expression belongs to him. Otherwise his feature compose a friendly, alert and handsome impression. Strangers are constantly telling us how beautiful he is ... I especially like how his hair sticks up in the back like a QP doll or a Mohawk. He seems to have his own unique style ... no question he is 100% Robin Alexander Maxfield ... and I have to just smile when I watch him be.

PS I love to breast feed him. His brown eyes look up with an expression of delight ... that makes me feel so happy that he is happy. He will look at his lover this way someday and she will melt. Sometimes he even has this twinkle of mischief in his eye ... usually when he is doing something he knows he should not be doing ... like grabbing my glasses or electrical cables.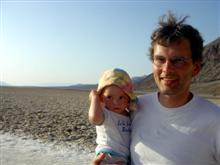 Sweating at Badwater.
Behind us to the left the "Salt Pan".

[Michelle:] Staying in Furnace Creek was really really hot! Like a convection oven. We would take a siesta midday ... and our faces would be shiny with oil and sweat from the 104F temperature. We managed to get by. Peter was very clever at locating campsites with a bit of shade ... this one in Furnace Creek was the best shade we ever found. A few nights later we headed to Wildrose where it was cool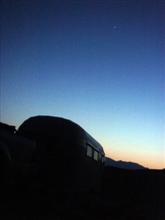 Night sky with Venus, we think

and very remote. We could watch the moon and Venus rise each night in the clear sky and they would do a little dance by changing positions each night. I liked staying in one place long enough to see how the sky changes.

We loved staying at Wildrose (for free) with great drinking water and the best pit toilet I have ever experienced ... your bottom got cold just from the super ventilation.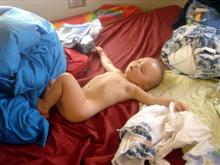 Siesta in Furnace Creek — nomen est omen!

Silvery sage brush and the metalic mild earth tones made the airstream seem to blend. in. You got used to appreciating the subtle colors. In some places the sands were black and the plants were silvery and it looked like a negative film ...
Each night at dusk we would receive a bunny escort on our ride back to Wildrose campsite ... The rabbits would be in the road and hop in front of our car, desperately trying to get away ... as soon as they would be on the side of the road and we we could try to carefully pass, they would dart out in front of us, zig zag and continue hopping down the road ... showing us our way ... we would just laugh our heads off ... and try like crazy not to hit them!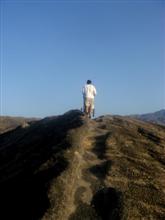 Exploring Ubehebe Crater rim
and the limits of
Ed and Michelle's jogger stroller
Ubehebe crater was such a surprise for us. We just stopped by after our tour of Scotty's Castle not knowing how impressive they could be. I was extremely impressed. We 3 hiked the edges of the craters and it was like being on top of the world in a sci-fi movie set.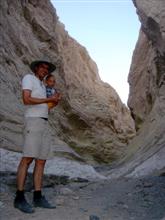 Proud explorers of a
small canyon at Zabriskie Point
Zabriskie Point was more than just the short hike up to the view ... we went into the dunes and canyons and then up a dry water fall. It was lovely and a bit scary. We had to hoist Robin up to each other to get past steep sections. Robin is such a little acrobat that it was really no problem at all. Peter and I had to visit Zabriskie point because we showed the movie by the same name for our Birthdays last year ... now, I would appreciate the movie more.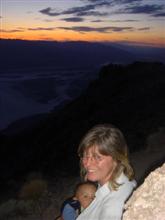 Breastfeeding in Death Valley
National Park at Dante's View.
In the background the Salt Pan
and the Death Valley Wash.
There is no water in the picture,
it's all salt.
After our hike at Zabriskie, we rushed like idiots to get to Dante's view by sunset ... we made it and I nursed Robin with the most beautiful view. It is truly an impressive view of the valley with the huge salt flats and views of the high mountains on the other side. Peter hiked up Telescope peak which is 11,000+ feet and that is the mountain directly across the valley from Dante's View. Worth the drive and hussle to get there!
The Titus Canyon Road adventure: There is one back road drive that was recommended to us by the park rangers, since we had a high clearance truck. It is called Titus Canyon Road and is 26 miles of rough, narrow, curvy roads with canyons, petroglyphs, old mines and lovely views of all kinds of rock formations. We decided to go into town (Beatty), buy groceries, maybe do laundry and do this drive on the way back. Well ... we got about 10 miles down the road and peter stalled the truck while trying to negotiate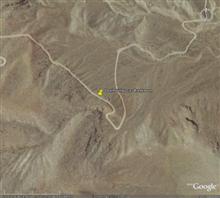 Google Earth picture of the place
where the car broke down. This link
points to the Google Earth file.

a tight mountain curve ... and the truck would not start at all (no headlights or anything) ... the battery was as dead as a door nail. We had been told by a mechanic earlier that our battery did not seem to be in the best health ... so it did make some sense, since Titus Canyon road was very bumpy and certainly stressed the truck in general. Anyway, we had enough water, lots of dirty laundry to cuddle up in and could have spent the night there in the middle of the road until the next day when someone else ventured by. I was a bit shook up because it was beginning to get dark and peter wanted to try to turn the truck around by backing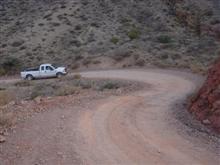 The lower curve is the one I used to
turn the truck around, without motor.
I backed up into the shoulder and could
roll away forward facing. (This picture
was taken at our second visit.)

down the narrow mountain road, turning it around (only by means of gravity) and then kick/push starting it. I thought he was out of his mind because the roads were extremely narrow with cliffs and he had never ever tried to push start a car and knew only theoretically how to do it. Well, he managed to pull it off. I was quite proud of him. He was very proud of himself. We began down the road back to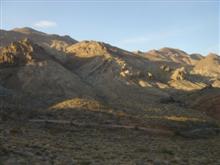 Titus Canyon Road and surrounding
mountains in the evening sun.
I did not enhance the contrast of this
picture because it displays the glare
and slight haze pretty well as we saw it.

Beatty, when we heard aweful screeching coming from the front left wheel. We though that we had destroyed a bearing, brakes or shocks ... it sounded very very bad! We tried to figure out what was wrong but it was too dark. Anyway we drove to Beatty going 10 miles an hour and left the truck at a mechanics and checked into a motel. Well it was just a battery that had given out and a small stone that had wedged itself between the brake pad and the rotor ... simple but expensive because the mechanic screwed us over! Unknowingly we drove back to Wildrose with the wrong battery that had be loosely set in the engine ... it was clearly bouncing around and could have done some real damage. Luckily, Peter opened up the hood the next day to check his work and discovered what they had done. We returned to the mechanics shop and only his associate was there ... we made a big scene ... the associate could not reach the mechanic so he called the mechanic's mother (higher authority) to get permission to purchase the proper battery and install it properly. In the end, we got our truck back into good working order. During all this broo-haa-haa another airstream pulled in being pulled by a stationwagen with a suspension problem. We became friends with Ted and Vicki and they too were screwed by this mechanic ... their situation escalated to their car being impounded and the police being called to resolve the issue. Anyway we made the best of our situation by getting laundry done, taking wonderful baths with Robin in the motel and eating many meals at the super mexican restaurant called Ensenada. I learned from this restaurant how to use 2 soft corn tortillas when making soft tacos ... yum! To finish this entry ... after getting our car really fixed ... we got back on the horse that threw us ... we drove the 26 miles of Titus Canyon Road and we really really enjoyed it!

April 29-May 9 (West Hollywood/Silverlake, CA)
[Michelle:]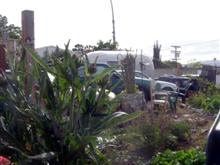 Between palm trees and Artichokes

The group house called "AgLago" (where my x-housemate Peter Johnson now lives) is awesome ... They are 12 people (mostly in their twenties and thirties) with a lovely garden in the back and porches both in front and back with comfy sofas, a lounging canopy bed and big tables for eating and doing projects. The minute we arrived, the roommates happily came out and helped us push and snug in our Airsteam into their backyard! What a welcome. We were truly sitting pretty in their long driveway with a view of the Hollywood sign and the Observatory! In my opinion, the house is bit more hip than Ben & Eve's (my old Boston group house). People are talented, friendly, motivated and very diverse. Every Sunday, the "Food not bombs" group uses the kitchen and back porch to prepare food for the poor and homeless. We got to see all this in action.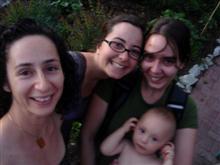 Robin always gets the cute chicks!

Although they have not had a baby in the house before, they seem to really enjoy having Robin around ... one housemate even washed the stairs to the second floor so Robin could climb them as much as he wanted without getting too dirty. Everyday there was fun stuff going on. One afternoon we got to play with Chris' radio controlled robotic toys (which he programs for Mattel ). Another roommate (Mee) plays the violin and has written many books on organic cooking, I spent an afternoon just enjoying her cookbooks. Another roommate is a bicycle nut and also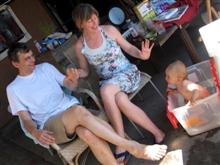 Chilling on AgLago's porch,
Robin in his little pool
(Photo by Mee)

does art with glass and other mediums. Other roommates were musicians, a cook, a seamstress, a landscape architects, a film staff support person etc. I can not remember what they all did but they were all so full of life! One night after some good food and beers ... two people did an improvisational gothic-tango in Peter Johnson's room ... they plan to do a performance in the future, but we got to see their first spontaneous attempt with the new music ... it was awesome ... and it made me miss Berlin and the lovely dance I have seen by Constanza Macras ... There is some real talent lerking in this AgLago!

The following quote is on Peter Johnson's wall (from the previous occupant of the room). It is by Jack Kerouac who is an american poet, novelist and leader/spokesman of the Beat Movement.

the only people for me are the mad ones
the ones who are mad to live, mad to talk, mad to be saved
desirous of everything at the same time
the ones who burn burn burn like a fabulous yellow roman candle exploding like spiders across the sky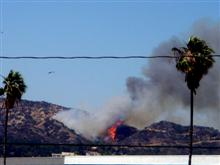 The fire not long after it started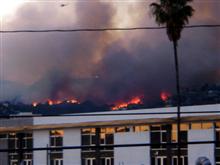 Six hours later, in the early evening

While we were at AgLago a forest fire broke out in Griffith Park in the mountains directly across from Silver Lake. We watched it with great alarm. It was such a mix of being quite beautiful and disastrous at the same time. You could see how desperately the firefighters (including helicopters and planes) fought mother nature and her winds. It was truly out of control! Many people were out in the streets watching the progress or lack of progress with distress. We sat on the back porch for hours, drinking beers, watching and waiting. In the end the night cooled the fire down enough that the firefighters could gain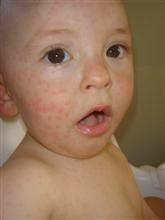 "Unspecific Viral Syndrome"

control over it. It had consumed a significant part of the park, but the zoo and the observatory which we had visited just a few days earlier could be saved.

[Peter:] I thought that after all we got a typical LA experience...

Unfortunately, both Robin and Peter got a virus and were sick for a few days ... the high fevers really scared me! Robin got an ugly rash as well. We visited a local clinic and then later the children's hospital ... and we were assured that Robin was fighting it well and that he would recover soon. No medication (except for the fever) could help.

April 27-29 (Altadena, CA)
[Michelle:]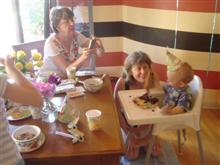 Robin enjoying his birthday cake

April 28th was Robin's first birthday and Sondra (the grandma) and Leslie (the aunt) made the party so wonderful. They bought helium balloons and a chocolate cake. Robin got to eat this cake all on his own and he loved it! The balloons were such a mystery to him. George and Leslie made us a wonderful lunch! Pan fried fish, tomato onion (Texas mild type) salad, cheeses, sparkling wine ... we toasted to Robin and to the fact that Peter and I have not yet messed up entirely! Peter and I bought Robin a new larger car seat so he can still sit backwards (safer) in comfort.

On Sunday George and Leslie took us to the Griffith Observatory which has reopened just this year after a substantial renovation. George had been the team leader of the Big Picture project. Leslie had retouched each detail of the huge image in night shifts next to her regular work. We still hold or index finger up to the night sky (which is the scale of piece of the sky that was made into the Big Picture) and think of this great work. Besides that we also enjoyed the planetarium show and just being up in the elegant observatory looking over LA.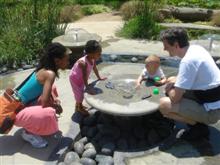 Meeting other kids in the Huntington Rose Garden

After going to Peter Johnson's group house for a week, we stopped again at Leslie's and had a lovely dinner and went to the Huntington for Tea and to tour the grounds. Our favorite parts were the children's garden and the desert garden. After tea, the waitress even packed us a care package of yummy jams and scones for us to take with us. Why are we so lucky?

April 27th, 2007 (Malibu, California) [Peter:] We are in Malibu, close to the beach (and Highway 1, but sound shielded by a cliff). Today we'll pick Sondra up at the airport, have a drink at the Paradise Cove Cafe, and then pull out to Leslie and George's home in Altadena, where we'll celebrate Robin's first birthday tomorrow. [Michelle:] We stayed at a funny RV park with all the amenities ... Yes directly on cliffs with the ocean below ... problem is that you have to cross route 1 to get to it. I made a lovely fish and zuchini dinner with rosemary from Roy Glikin's garden one night! One of my best meals ever. One of the days, we had a long beach walk and had lunch on the foundation of Suzanne Somers (from 3 is company) beach house which burned down in January ... Robin just loves the beach ... he was so cute by turning backwards to climb down a steep sand decline (like they were stairs) ...

Found a great beach cafe in paradise cove. At the entrance to the parking lot was a shined up airstream (60's) which was adorable. We should shine ours up! We sat on the beach and drank beers and let robin play in the sand. A jazz band was playing inside at the bar and I moved us all in to hear them because Robin was

dancing ... the band came up to talk to us by the fireplace because Robin was such a good little dancer ... grin (a talent from mommy and daddy). The beach was especially nice because it had cliffs and a cool mobile home park which we walked through. It is certainly not cheap to have a place there! We decide to take my mom (Sondra) to this cafe after we pick her up from the airport to have cocktails and appetizers. She enjoyed it. We arrived at Leslie's house with the Airstream in tow at 9 PM. She had dinner waiting for us and her house was so enviting and warmly lit. I love her taste!

April 24-25 (North east of Los Olivos by 12 miles, CA)


[Michelle:] We did not reach the campsite described in the AAA booklet ... road became too rough ... when the pavement ended and we had climbed to a very high altitude, we stopped at a turn out and slept there. It was one of my most favorite sites. I was a bit nervous at night when we were setting up because 6 beady little eyes were reflecting when my flashlight was pointed toward the field below us. Peter calmed me by saying they were probably just cows ... nope, next morning there were certainly no cows in that field.

Next morning we awoke and i was so peaceful. It was a lovely mountain setting with fields and oaks and wild flowers ... it smelled of sage and rosemary and other fragrant flowers which were blooming in the sunshine. You would just hear the birds and the bugs buzzing. As we went by a group of cows huddling under a great oaktree enjoying its shade, Peter said "I bet their meat tastes really good since they munch on sage and rosemary all day long" ... I could feel a juicy warm steak bleeding in my mouth and started craving a good steak (which I got later!)

As we drove back down to the valley, we went by lovely ranches ... one was my favorite ... well kept white wooden fences enclosed gorgeous meadows with huge shady oak trees ... they must have been at least 200 years old. The barns and house were well kept but modest ... the cattle looked very healthy, shiney and elegant. As we drove by the last pasture a mexican man on his tracker waved back to me ... having smiled and seen our lovely old airstream. I felt so welcome!

April 21st, 2007
Monterey, California

[Peter:] Goodness, again 2 weeks without update, since April 8th! I may add entries and pics for the period inbetween when I find time. What has happened in between? We went down the Pacific coast of Oregon and Northern California pretty quickly. The Californian Coast was among the most impressive we have seen so far; we had picnic between the cliffs, see below. Some stations in short (I may add more details later):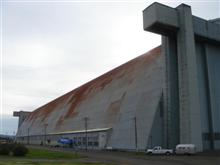 The hangar was rather big.
On the first day past Portland we went by the airplane museum by Tillamoock. We had started the trip so late that the museum was already closed, but the huge hangar — a wooden construction from the 1940s — and the cargo plane in front of it made the stop worthwile.
The sea lions cave in Florence was very impressive. We have a video with sound which we'll upload (their barking is halfway between donkey and dog), some day.
April 18-22 (Castroville/Monterey/Santa Cruz, CA)
[Peter:] We stayed a couple of days at Roy's place near Monterey. This had been a long anticipated visit, from all sides, actually. Roy is a long time friend of Michelle's, and all I knew was that occasionally they would have telephone dates late night German time that could well last an hour or two, updating each other on the newest "developments". I bet Roy was curious to see me live, too.
The Airstream snuckered into the
place cleared out by Roy

[Michelle:] Roy was the most wonderful host ... from the minute we walked into his apartment, he could really sense what Peter and I needed. He spotted that I needed a glass of water (because I was nursing) and Peter needed something to read ... Right on Roy! I was so touched by his effort of clearing out a spot in his side yard for us to back the Airstream into that even had electricity. We were as snug as a bug in a rug! By the way, we were not the only Airstream on the grounds ... Dave (an old roommate) had left his airsteam there too ... it was fun to peak into the windows.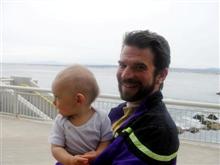 Roy with Robin, at the
Monterey Aquarium

Roy showed us the area! The first day he took us to the Monterey Aquarium. I had no idea that Robin would get so much out of it. He loved it. He was glued to the windows of so many exhibits! One highlight was getting to nursed Robin in the jellyfish exhibit ... what a peaceful visual environment ... For those who have never seen it ... it is just huge blue tanks with florescent orange jellyfish gently moving in the pulsating way. Another highlight for me was the "Diner Exhibit" where you sit in a diner setting on bar stools and selected a fish from the menu (electronic touch screen). Depending on what you ordered a skit would begin on 3 high definition monitors (with 3 actors) discussed your choice ... it was so educational and fun! Well done!

Besides the Aquarium and a lovely beach walk, Roy took us the best Mexican and Chinese restaurant! I love great food in simples settings ... these were top! We also went to the Santa Cruz film festival and saw an good documentary on Burning Man ... called Voyage to Utopia.

It was hard to leave Roy's but we needed to get down to LA for Robin's Birthday and to pick up my mom at the airport ... so we reluctantly left ...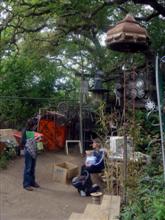 In the creative construction yard
of Felix' school
April 16-17 (Menlo Park with Alaina)
[Michelle:] Menlo Park, we arrived, Yippee ... I had not seen Alaina since Rome 2 summers before ... there we had caught up on years of gossip and she got to see me in the throws of trying to get pregnant. Now I was with child ... a Robin-boy that was almost 1 year old. For this reason, I must admit, that I was particularly excited to introduce Alaina to little Robin! She, David and Felix live in this wonderful woody house that is like a huge yurt with the most fabulous garden. I have always loved this garden and I was glad to see that it had gotten even more beautiful. It is full of blooming jasmine and a lemon tree that produces a huge quantity of delicious lemons (Alaina let me take an entire bag full when we left). Felix had the idea to put colorful glass pebbles in the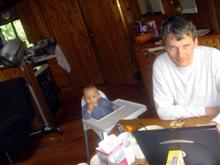 Exhausted from the vacation
In Alaina and David's
large wooden living room

walkways and they wink and shimmer at you during the midday sun. There is also a lovely wooden seat which I used regularly to breastfeed my little guy. In the house there are fabulous pieces of artwork and sillyness everywhere ... I am so happy to see her still in her element ... for example, next to a modern blocky wooly sofa was a 1950's beauty parlor hairdryer turned into lamp. Grin, that is my Alaina. Anyway they have a fantastic wall piece (I forget the artist name, shame on me) which is just a black rectangular plate with 48 outer pixels of a monitor reflecting against a white wall. You can look at this piece (with just this limited information) and see that it is a video taken from a New York City street corner with yellow cabs driving by. I was so charmed. She also has wonderful wind up toys from Japan which really play instruments and dance in fun way ... Robin was entranced. Alaina and David allowed us to snuggle the airstream into their driveway up next to their blue spitfire ... oh joy. It was a good spot where we would hear birds chirping in the mornings. We had it made: David would cook us wonderful food in the evenings (such as savory bread pudding and some incredible potato fish mash) and Alaina would arrange a wonderful field trips for us during the day. One field trip was a visit to Felix's school, the Peninsula School. His school is very artsy and alternative with individual houses as classrooms and great play spaces made of assembled junk yard type materials ... kids love to explore and be creative. Felix beemed as he gave me a lovely tour of the playground. Alaina works part time in the Library as well often doing story telling. The second date was a trip to visit the company Anybots. There we met Trevor and his walking and jumping robots. One is a master/slave type robot on a segway type wheel/feet assembly. The other is tethered to a frame and he really walks and jumps. You can push the robots and they right themselves. The way they move is so natural that you really feel at ease with them. Trevor was a very interesting guy who had made enough money on selling his first company that he could research and do what ever he wants ... well there you have it, the fantasy job of building robots. Trevor's Robots moved so gracefully, I could imagine seeing them dancing a waltz together! Robin enjoyed watching Felix ... and Felix was not so sure that to think of Robin. Robin kept making chaos of Felix' work/play space ... hmmm? Anyway Felix and the rest of the family are Warrior fans ... so this household is full of basketball madness. We got to witness not only a victory at a home game but the day we left, Felix, David and Alaina headed off to Portland for the big game for the playoffs. It was David's birthday and that is how they celebrated ... Warrior Basketball for all. We made our way south ... with some wonderful memories and gifts. Since our baby backpack got destroyed at Mt. Diablo, Alaina gave us Felix' backpack ... it is super heavyduty ... we love it. As an early birthday present, Felix gave Robin a cloth briefcase with small stuffed animals that fit into pockets denoting the alphabet. He loves to chew on each animal and put them in and out of the pockets. Thanks for all the fun and hospitality, you guys!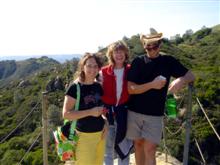 Hiking on Mt. Diablo
with Sandrijn and Gary
April 13-15 (San Francisco, CA)
[Michelle:] We arrived at Mt. Diablo at midnight on Friday 13th (after an exhausting but beautiful drive down the california coast) and the gate was closed and there was no easy way to turn around. Ooops. We had to back down the entry and into a driveway ... after at least 3 tries, Peter got it ... pfeeww ... but that was not the end of our difficulties ... we spent hours trying to find a place to spend the night. Peter consulted google earth to find a desolate area to overnight ... but were fooled by the fotos because they were taken in summer ... it was not a waste desert land but rather a green and grassy golf course. We even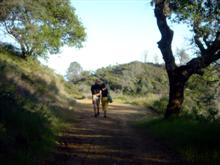 Sigh :-)

met some girls at 2 AM who were coming from a bachelorette party ... who told us to go to park and ride. We ended up in a church parking lot. There we were awakened by old men in red uniforms yelling outside the Airstream ... we got dressed and I volunteered to go out and handle the ugly situation ... it was only the daddy's (or grand daddy's) ordering the T-ball kids around for their game at 8:30 AM ... we had to laugh at our own paranoid panic. We headed to Mt. Diablo and got a wonderful spot and tool a long deserved nap. The sky at sunset was like a Maxfield perish painting ... as we drove to SF to meet Gary and Sandrijn. Everyone said we were crazy to drive our truck into SF and try to find a monster parking spot and expect that nothing from the back of the truck would be stolen ... right there in Haight Ashbury ... well we had luck with us again. Monster spot, no problem and noone stole a thing out of our pickup bed. We arrived at Sandrijn and Gary's apartment and they and a girlfriend were deep into making a gourmet dinner for us and everyone had had a few cocktails ... good mood for sure ... so we joined in. Juicy roasted chicken, potatoes, asparagus, salad and a memorable lemon/shortbread dessert ... we ate, talked 100 miles per hour and slept in a content bliss. The next day we went out for breakfast and headed to Mt. Diablo for a hike. I enjoyed the hike mainly because I got to chat with Sandrijn about her life in SF and her new job. We did see lovely meadows and climbed onto high rocks. While we were on one of the highest rocks, we called Martin Czembor in NYC to day "hi". He was very confused and then very amused. I am so glad that my friends are getting to meet my 2 favorite boys, Peter and Robin. Bit by bit from these trips and introductions my life in Germany and life in USA seems to melt together. They coexist in my soul in harmony ... but often I forget that everyone I care about does not know the others I care about. So best is ... get them all together ... so maybe that is what this trip is about ... not just "Breastfeeding in National Parks" .... wink wink.

April 8th, 2007
Still Crater Lake, Oregon

[Peter:] We had a guided snowshoe tour on the rim. Guide Kevin told us about the adaptions of the plants and animals to the harsh climate on the mountain. He would kneel down every 100 feet and ecstatically point out snow flies and other insects and spiders that had been lured to hatch in the very warm midday sun. But the day got cooler, and at night it would freeze and snow.

We decided to go to the free camp spot again and this time try to get to the actual Huckleberry Camp Ground, four miles off highway. The access road looked very good at first, but after a quarter of a mile there was too much snow and we just stayed in a spot next to the road in the forest where we wouldn't bother anybody. The snow park is a beautiful winter sport location for cross country skiing and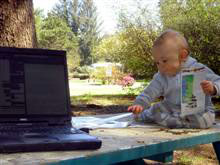 Where I'm writing this :-)

snow mobile driving. Again we regretted that we didn't buy cheap cross country skis early at Mount Baker. On the other hand this was probably the last excursion into the winter for this trip — in the valleys it is already late spring. It is funny to jump back and forth between seasons. I'm writing this on April 10th, sitting outside at a picknick table in the nice Village Camper Inn RV park, looking at the blooming bushes. We are as happy about spring as our Berlin friends :-).

April 7th, 2007
Crater Lake, Oregon

[Peter:] Gone up to Crater Lake along the wonderful scenic Route 230. Clouds and sun, perfectly matching the cliffs and forest and white water river. Slept at Thousand Springs Campground next to the river. Went shopping and got gas next morning at the well stocked country store. The owners have bought it only 4 years ago.

On the crater rim there were 6 feet of snow and maybe 40 degrees Fahrenheit, but still sunny patches. I got to try the stunt kite that I had bought in Florence for the beach; but at the beach there hadn't been enough wind the other day.

For dinner we had asparagus with potatoes. We then slept for free at the "Sno-Park" in the National Forest, the second day off grid.

April 6th, 2007
Umpqua National Forest, Oregon

[Peter:] Today we made some way towards our next destination, Crater Lake. We followed the slower route 38 and 138 along a beautiful river. The landscape changed from hills with meadows and mixed forests that resembled southern Germany to steep valleys that turned the river into white water. Such a joy to be all day in this beautiful landscape. (The only annoying things are the street and the cars.) We had lunch in the summerly sun at the colliding rivers, a very picturesque place where only the joint force of two rivers could break through a basalt formation. We slept in one of the few open camp grounds on the way, directly next to the river, white water and all.

April 5th, 2007
Florence, Oregon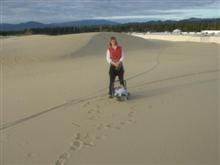 It's not an oasis, it's a supermarket!

[Peter:] The dunes are fantastic. Behind the local supermarket we walk up a 60 feet high dune that just starts like the Sahara at the parking lot and have a look. There are 50 or 60 miles of dunes along the Oregon coast, often 2 or 3 miles deep. Pines and grass are divided by stretches of bare sand.

The Jessie Honeyman campground where we stay hosts lots of all terrain vehicle enthusiasts who enjoy driving the dunes up and down with their funny toys. Big boys. I abhor this as much as noise polluting remote, inaccessible coast lines with these motorized water vehicles that I don't even want to know the name of. It's as far from subtle as you can get, and it's the only way a car obsessed society can make sense of this landscape. All other senses are obstructed, and it doesn't get any better on these cars.

It's a gorgeous day, the sun is out, but not too hot. We want to hike to the ocean but there is no obvious trail, and we walk in a circle after seeing sandboarders who go down the dunes like a snowy slope. "Hiking would be dangerous because over there it's full of Dune Buggys", one Oregonian explains to us. So we go back to the camp site and drive to a beach access. The Pacific is impressive as always. The beach stretches as far as you can look, and we are all alone apart from birds and seals until a few people appear around sunset. But some clouds at the horizon cover the sun during sunset so that it is less spectacular. the

April 4th, 2007
Portland/Florence, Oregon

[Peter:] We needed some willpower to leave Doris and David's hospitable home. No, we did not join the kids at the Science Museum. Thank goodness Harry Potter V isn't filmed yet. The moisture problem was dealt with, the paint was dry, the outlets were installed and cables checked, the wheel wells were insulated, the new tongue jack was installed, our complete household was moved back in, and a test night had been successfully spent. We had felt so comfortable at Doris and David's, but it was also nice to be back in our own space!

April 1st, 2007
Portland

[Peter:] I apologize for the long delay in updating the travel log. We have set up camp at Doris and David Burrill's place in Portland and done some major maintenance, apart from skiing, hiking, juggling, watching DVDs and eating David's dinners :-). A big hug and thank you for your support and patience with our mess!

We have spent a very nice time here. I'll detail it later (and add pictures, of course), but the highlight was a stay at the Timberline Lodge, where we skied for three days. I learned snowboarding! Michelle and I took turns in watching Robin and skiing, respectively.

David did a day of sightseeing with us, showing us the beautiful surroundings of Portland: Waterfalls, Columbia River Gorge, Mt. Hood. On another day we went to the Zoo, on yet another day we visited the Audobun Society and hiked in the nearby Parks. And on many evenings David would sabotage our getting work done by putting DVDs in ("I just want to say that Harry Potter is about to start in 5 minutes!"). It was as if they didn't want us to leave!

The major repair we did was painting the interior of the airstream. For a couple of weeks we had noticed that the original paint (we believe it's Zolatone) flaked off. It seemed to get worse. We think the paint may have suffered from condensation and even freezing in the cold weather we had been in. That didn't bother us too much since we are not exactly neat freaks (do I hear anybody laugh? No? Good.) But when the flaking got worse we had second thoughts because the paint from 1953 might well contain lead: typical white paint from that time contained about 50%. We had actually asked the Zolatone customer service about lead when we considered painting the interior in Houston. They said that to their knowledge Zolatone had never contained lead, but the person who could give us an authoritative answer had just been on vacation. That had been good enough for us at that time, but now with the accelerating deterioration and Robin getting old enough to crawl around and eat everything on the floor we suddenly got scared. Lead, after all, is pretty bad especially for the developing nervous system of a young child.

After some research we ordered a lab analysis of the paint. Since the analysis would take about 10 days, we decided to not wait and paint it right away. Luckily the results came ealier: the paint contains lead traces of 0.075%, while the current maximum is 0.060%. The lab guy said he wouldn't worry, but we worried anyway and went to a lab that could (as we thought) do a lead blood level test. It turned out that we needed a doctor's order for such a test (why?), that they wouldn't tell us the result unless the doctor allowed it (why?), and that they actually didn't perform the analysis there but sent the blood samples to California which meant that the results would only be available four days later. Thank goodness we found a very cooperative contact at the Portland Public Health Clinic (thanks Monica!) who saw to that the doctor faxed the proper orders to the proper lab, after only 3-7 phone calls. Phew. And then the results showed no lead at all, pheeew. False alarm, if you want, but a new interior.

Technically, we had a few side conditions to meet with the paint job:
The walls had the dirt from 50 years on it, but since we suspected lead in the old paint, we couldn't easily sand it (we could have wet sanded it, but how to deal with the water on our nice floor?). We used a Krud Cutter variety that doesn't have to be rinsed off, in order to clean and degloss the walls.
We used a primer in order to get good adhesion on the brittle old paint.
Because we wanted to move back into the airstream after only a few days, we used water based acrylic paint that cures fast and contains fewer volatile organic compounds, and we heated the airstream with both heaters in order to speed up curing.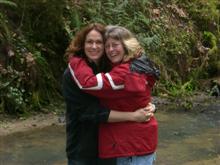 Old friends! The tallest
gymnasts ever in college!

March 12-April 3 (Beaverton, Oregon)
See our picture page with many fotos also from Timberline lodge!
[Michelle:] Our visit to Doris and David Burrill's in Beaverton was much much more that we ever expected ... probably for them too ... it started off as a quick stopover for the weekend and turned into weeks of real family life, work and real holiday! Let me try to describe this memorable time!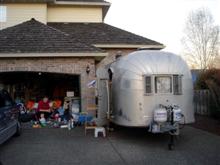 Our Airstream in the driveway

As we pulled into their residential neighborhood with our "rig", Doris, David and the kids came out to greet us. Doris and David looked just like they did at MIT when we were classmates together ... amazing ... time stands still ... except they have two big boys (Devon and Daniel). I felt we had not seen each other for only a couple of years but it had been actually more like 20. David guided me regarding backing in the Airstream into their driveway ... all looked good ... until ... Peter tried to activate the tongue jack ... broken ... grrr ... they used other jacks and bricks to level the Airstream and we had to find a repair place to help us. The 1953 jack (in the shape of a tear drop) is no longer made ... so real changes had to be made to the front tongue to accept the modern type. On the first weekend we were there, the Burrill family had plans away, so we stayed to "house sit/dog sit" and get our "rig" road worthy. Then we noticed the paint flaking and did the whole clean/prime/paint job described in the entry above. Yup, we were still parked in the front of Doris and David's house and doing major rennovations ... they were amused. They kept saying that they were going to keep finding ways for us to stay even longer. David succeeded by seducing us with movies and we ate it up and enjoyed it. Here are a few examples of a few of the gems we got to see: All Harry Potter films, All Starwars films, 50 first Dates, Mr. Deeds with Adam Sandler, Happy Feet, Buffy the Vampire Slayer series ... oops almost forgot to mention that Doris and Daniel exposed us to Weird Al Yankovic ... We became fans!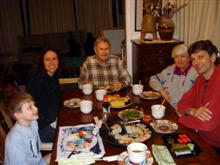 Family dinner with Rachel and Lee

Anyway our days were full of work, entertainment and great food. David cooked us lovely breakfasts and dinners, Doris exposed us to the joys of monster smoothies from Jamba Juice and the boy's were crazy about Teryaki Wu ... and we became "Wu who"s too! Robin got to taste Graham crackers for the first time at Doris'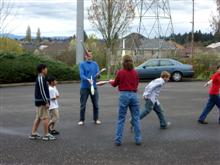 Juggling in the street. The link
points to a 1.2 MB video! Cool
performances, jumping and cart-
wheeling with swords
through the flying clubs!

parents (Rachel and Lee) place ... they became his surrogate grandparents for those few weeks. Rachel even gave Robin a self made quilt with a frog pattern that he uses constantly. Besides Rachel and Lee, Robin's favorite "people" at the Burrill's were Dee and Dexter, the dogs. Robin's first words were "Dee Dee" ... even now all dogs are "Dee Dee". I must say that Robin made a huge growth spurt by being with Devon and Daniel. One major accomplishment was to learn how to climb stairs. I also learned some cool stuff from Devon and Daniel. Devon taught us all about pinguins (we even went to the zoo and saw live ones!). Devon and Doris also showed me how to do cube roots with snap blocks ... and how to estimate cube roots visually. Excellent! I had alway relied on formulas not visuals ... and I am a visual girl. By the way Devon is only 8 ... multiplication, square roots and cube roots are no problem for him, imagine that! Daniel is a martial arts wiz. He did some super moves with weapons and breaking boards. By the way we use his broken boards still as fire starter (kindling). Daniel writes wonderful poems and stories as well as rides this flexible skateboard like a crazy guy. Anyway, we played with these talented kids and their friends in the dead end circle and it was a blast. Peter and I even got out our juggling clubs and did a little passing. See the video for our improvisational passing piece with the kids ... they are wild ... and luckily no one got hurt. Too bad we didn't have fire clubs or we could have really scared the neighborhood kids' parents. Grin Grin.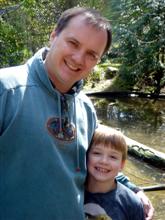 In the zoo with David and Devon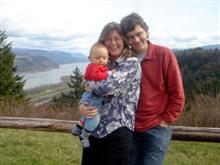 Sightseeing in the Columbia Gorge
with David (who took the picture)

Doris and David were hosts with the mosts ... they took us hiking in the Audobon trails, to the Pritchet mansion, to the portland Zoo and into the Columbia river gorge to view all the waterfalls. As a grand finali they invited us to join them on their winter holiday to Timberline Lodge on Mount Hood. Oh my goodness ... that was the biggest treat ever for us ... a holiday from our holiday ... This vlodge was built during the depression by the finest craftsmen. The main fireplace had 3 fire spaces upstairs and 2 spaces down stairs and was made of gorgeous huge stone. The metal work and lamps were all hand made for the lodge by metal smiths and the stairwell railings were carved with adorable forest animals ...I just loved to be in this building! Late in the evenings, people would be by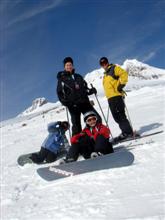 The Burrill family in front of Mt. Hood

the fireplaces playing board games ... I love the atmosphere which was both elegant yet comfortable and homey. On top of all that, the food in the dining room was excellent! They also had a hot tub and pool which were right down the hall from our rooms. Peter and I would switch watching Robin while the other went skiing or hot tubbing ... actually Peter went snow boarding and really learned how ... what an athlete ... I am proud of him. I could walk out the lodge and skii the first run without any driving, hastle, or time loss. It was a wonderful vacation ... and the Airstream was able to "air out" after that marathon paint job!

We have never gotten so much done and had so much real soulful entertainment in such a short time ... Thank you Doris, David, Devon, Daniel, Rachel, Lee, Dee and Dexter.

March 10
[Peter:] A rainy visit to Mt. St. Helens. The reforested areas sometimes create a moire effect. All the trees have been planted at the same time and criss-cross in front of your eyes.

The volcanic landscape is wonderful, alien and terrible.

March 9
A visit at the world kite museum. Not many high-tech kites as I had thought but an exhibition on Asian kites and a well-assembled history section with photographs of the San Francisco earthquake devastations taken from kite-born cameras as well as a collection of original WW II kites.

March 8
Tried to fit into muddy, narrow unofficial site on N. Nemah road ... tip from friendly guy in parking lot ... did not fit ... so we went on to Cape Disappointment

March 6 (Fletcher Creek by Quinault Lake)
[Michelle] We arrived here at Quinault area yesterday and all campsites (except for a "resort") are closed for the season. We asked a forest ranger where we could camp and he "unofficially" said that no one will bother us at Fletcher Creek ... so we drove over 8 miles of gravel/potholes to this turn-off in the rainforest. It is nicely located. Today we hiked up the road and I saw 2 eagles up close and we saw beautiful views of the river and mountains and at deep dusk we came upon a lovely waterfall that we will visit again tomorrow. It is so nice to step out of the airstream and go on a hike without driving. It really feels like we are in the wilderness and it is so nice to be off the grid. I can type on the computer because we have a second car battery just for such things!

Yesterday while I was feeding Robin apple sauce, he puckered up and made a kissing noise. This was probably due to the fact that I am feeding him "all natural" apple sauce with no added sugar. He loves this new sound and has been doing it all day ... especially when he is hungry. I think that he may learn soon how to kiss. Good skill, indeed. Until now he kisses by opening his mouth up and putting your nose in it. It is very delicate and sweet ... I will miss this special kind of kiss ...

Unfortunately, Robin has gotten a diaper rash! Tonight we have bathed his little butt and have him airing his bottom on Finola's blanket turned upside down. I hope it heals soon. I can't bare to see a red little bottom and I worry! [The rash was over quickly. -Peter]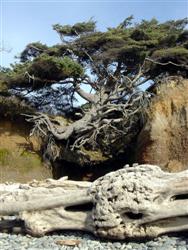 A tree that bridges a little
canyon formed by a creek.
Being close to water is an advantage
most of the times — until it really
pours.
March 5th 2007
Still Bogachiel State Park
[Peter:] Yesterday we had a sunny spring day, completely unexpected — the weather forecast had talked about clouds and showers, and after all we are west of the Olympic Mountains, close to rain forest, in March. We just changed our plan for the day and did not work on the web log and did no laundry but went to the beach at Kalaloch; it was wonderful. Robin gets more comfortable with the jogger stroller now that he's a little bigger, so that I don't have to carry him all the time.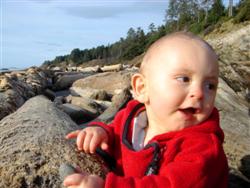 Robin exploring driftwood

The beach stretches for miles, each mile or so interrupted by rocky points that can only be passed at low tide. Little waterfalls mark the end of creeks coming from the mountain. The forest goes all the way up to the shore. Rocks to climb on, seals to look for, freshwater crossing the beach, a perfect playgound for any child like me... and hardly anybody in sight. At low tide we walk over a rocky stretch that has been exposed, starfish and sea anemones in the tide pools. At the end of the beach the rocks form an amphitheatre, stair like tribunes on one side and a stage on the other, even with a rock hiding a stage entry.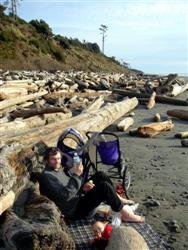 Lunch time :-)

We have lunch between large tree trunks of driftwood. A perfect day, except for the seal that lay on the beach, dry, panting, twitching, flies already over it; it looked as if it's going to die and couldn't move much on land. We thought it might feel better in the water, being able to move easier; at least it couldn't be any worse than it was now. So we got out of our pants, rolled the seal on two sturdy sticks and carried it in knee deep water. Indeed it moved and swam somewhat, but couldn't or didn't want to swim out through the surf. Instead the receding water left it lying on the beach again, in about the same condition as before except with fewer flies. Nice of the sea gulls to wait with dinner until we were gone.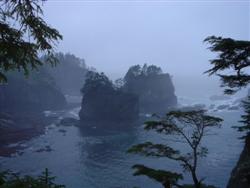 Rocks at Cape Flattery in the dusk
March 3rd 2007
Still Bogachiel State Park
[Peter:] Today we went to the most northwestern point of the contiguous US (excluding Alaska, obviously), Cape Flattery. It's part of the Indian Reservation of the Makah tribe who inhabited much of the area before the Europeans came. Nobody had told us how beautiful it would be. Board walks and platforms on top of the 100 feet cliffs provide vistas of beauty painted with bold strokes. We were in awe. A rocky shore with caves and coves and rocky little islands shaped by the waves and winds, some with trees on them that you just have to admire for their persistence. The Pacific surf unites everything on the scene with its heartbeat. A little mist creates a picture that resembles Asian landscape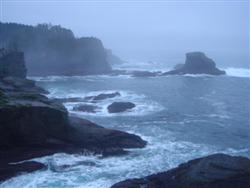 More rocks at Cape Flattery in the dusk ;-)

art. Some trees look like macro bonsai (if that makes any sense), knotty witnesses of wind and salt and rocky ground that needs strong roots and tough flexibility above ground. And yes, the dots on that rock is a seal family. I'm not religious, but rather think that Slartibartfast has won another award with this shore.

March 1, 2007 (La Push)
[Michelle] We are still staying at Bogachiel state park but today we made a field trip to the Indian reservation which has a town called: La Push. Very interesting beach area with lots of cliffs, huge drift wood, rock and islands. I was surprised how interesting a beach can be ... it is directly on the mouth of a River where we sat and ate our lunch. We watched fishermen using nets to catch salmon and seals playing in the water next to them steeling fish now and then. On the ocean side we hiked the beach and the sand kept changing consistency ... first sand and then clay like sand which did not allow the water to sink back in so the sea foam would skid along the beach. We then had a zone of little drift wood pieces all rounded from the waves. The beach then changed to big rock that klanked when the waves came in ... and then we hit a zone of little black rocks which were slightly smaller than peas. The waves came in from all directions and often hit each other causing high sprays of salt water. There were also huge waves which crashed against the cliffs and a small stream of water which ran along the beach which peter and I played with. Right now we are watching the lights of the crab boats (we see 6 or so lights on the horizon) coming in after many days at sea. We might try to buy some fresh crabs off them ... but mainly it is fun to watch the boats.
[Peter] We actually stayed on a place above the cliffs where one has a good view and waited for the boats to come in, which took longer than we had anticipated. One or two other cars joined us, probably wives or families of the fishermen, but it was too cold and windy to get out and talk much. When the boats finally passed through the port entry below us, we think we could hear the fisherman ask each other "Do you know these guys?". They must have wondered what these strangers were waiting for there.

Feb 28th 2007, Bogachiel State Park [Peter:] Robin's 10th month birthday :-). We played a lot with him and had a relaxing day.

The State Park is small but pretty and well maintained, although close to the Highway 101. But then there is not so much traffic, and it's pretty central so that we can explore much of the Olympic west without moving the whole trailer.

[Michelle] Today Robin is 10 months old ... so it is a birthday, of sorts. That is why I would like to make a more significant log entry about our sweet Robin-boy.

We have spent the day playing with him in the airstream because the weather is moody ... it has been hailing and snowing most of the day. Our neighbor told Peter that we better do our hikes today and tomorrow because there will be bad weather starting on the day after tomorrow. I had to laugh because this is certainly not good weather ... I am still in my pajamas and it is 11 PM.

So about our Robin:
He has 5 teeth ... pulling himself up to standing ... curious about everything ... loves to brush his teeth ... loves to eat what we eat ... chunky foods ... he eats everything that we give him, amazing huh? No issues so far... his smile has changed with all these teeth ... his ears still poke out which makes him look so adorable! He has a strong will and a determined expression. He is a mother's boy and it frustrates Peter sometimes.

His skin in smooth and gorgeous and his eyes are big, brown, honest and sometimes with a mischieveous sparkle ... He like to use his pinchers (thumb and for-finger) to pick up tiny bits of dirt, rocks, pine needles ... but also to pinch my other breast while he is nursing. I really have to fight him! He is persistent!

He explores everything and watches everything we do. Sometimes he even stops breast feeding because he can not miss out on what Peter is doing. He finds the activitiy of brushing teeth fascinating ... so he can spend hours trying to brush his little teeth with his soft baby toothbrush.

He has also become obsessed lately with inside and outside of containers. Yesterday he was trying to place paper cups inside each other and thought that was fun. He desperately wants to feed himself but makes a terrible mess. He figured out recently how to dip his crackers into water and proudly showed us his new trick. We all really look forward to warmer weather so he can sit outside and make a big mess!

Robin flirts with all the girls and they flock around him. He flirts and then becomes extremely shy ... good strategy. I think that he misses having other little kids to play with ... but maybe that is my own projection on to him.

He also loves to balance high above Peter's head and hang on the shower rod or shelves in our airstream. He is a little acrobat. Peter and Robin have a little stunt that they do that impresses everyone. Soon Robin will be too heavy for Peter to hold up with one hand! Additionally he loves to do the kamikaze dive from the bed to the floor ... head first ... he just grins and giggles when he lands. To him, it is all just a game ... to me it is a heart stopper!

Robin seems to understand the word "no" but does not necessarily stop doing what we object to. He loves electrical cables and cell phones and we can not say "no" enough.

Robin says "da da da da" and sometimes seems to use it to refer to Peter but does not yet say "Ma ma". He sometimes answers yes/no questions with JA but it seems accidental. He does communicate with us with sounds and we mimick them and communicate back. Often it sounds like "bbbvvvvvvvv dada ah ha baa baa bvvvv da do". Often he will tell us a story that can last for many minutes ... he really seems to be telling us something. I love to make him laugh out loud ... that can be done by tickling his feet or vibrating his chest. Sometimes he just pants like a dog or jogs on his back. He loves to flap his hands and feet up and down when wishing for or expecting a treat in his high chair. In general he does not complain or cry without a good reason ... we try to listen and take him seriously. Both Peter and I are amazed that he never seems silly or stupid. Peter said this morning that it is like he is mirroring the development of man ... trying out and discovering everything ... like fire and using tools.

Robin loves:
His speaking car, Tow Mater, flash lights, black cables and all technical things like cell phones and cameras ... He likes his backpack with the cockpit ... He loves running water and baths. He likes making noises into long tubes ... like pringles cans and tall drinking glasses. He loves to be flipped around, being helped to jump high in the air and to hang on things. He also loves anything with a handle ... or steering wheel.

Robin does not like:
Putting on clothes, being strapped into his car seat (strange, after 1 minute, he is happy), the sound of drilling, blow dryers or vacuum cleaners (he has very very sensitive ears)

Our nick names for him these days are: Robinovich, The Poopster, Robin-boy, Buggaboo

So I guess that sums up a little of what our boy is about ... "he is 10 months old ... that is how he is" [my favourite citation from "About a Boy" -Peter] ... but to us it all seems special ... to the rest of the world (and you) he is just a normal 10 month old kid. I hope you can smile at all this ...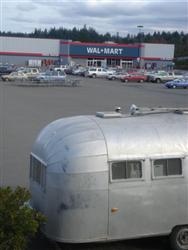 With Vision Center! We both bought
new glasses there.
February 27, 2007 (Bogachiel State Park - by Hoh Rainforest)
[Michelle] We got a late start because we were awake the night before until 4 AM watching "Funny Face" with Audrey Hepburn and Fred Astaire on our new DVD player. On our way to Bogachiel state park we had to stop and do a small hike to a picturesque waterfall called Marymere Falls ... yes we started our hike at 5 PM and did not get down until dark ... our silly shifted time schedule ... but it was soooooooo worth it. Part of the trail was closed due to mud landslides ...plus the 3 big wind storms this winter have downed many huge trees. Even the waterfall has large trees dangling percariously in the falls.
[Peter:] Slept on the Wal Mart parking lot in Sequim the night before and at the Port Angeles Wal Mart this night — it's secure, it's free, it's convenient, and it's ugly ;-). Bought a DVD player last night (10 inches for 99 Dollars) but couldn't decide about Sirius radio. Do we have time to listen to music and news a lot? Do we want to noise pollute our spare time, even if it's commercial free? More soon. Update: No Sirius :-). They had a 59 dollar special for an outdated boombox that wouldn't work with the current receivers, and the new boombox is 100 dollars which together with the 50 dollars for a receiver seems just too much for an experimental purchase. But we miss music... still not sure. It would also be good to expose Robin to some music, we think. I'm missing John Peel on BBC (been missing him for the last years, unfortunately. Died too early, like Douglas Adams.) Hm.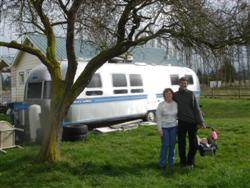 With Nancy in front of her Silver Palace.

February 26, 2007
Port Angeles Walmart, Bird Farm and Strawberry Rhubarb Pie
[Michelle:] Oh, I just love to wake up in a Walmart parking lot, yes really ... especially when there is a hail storm in progress ... yes, that was how today started ... but let me tell you how nice the day really turned out. We headed out of Walmart to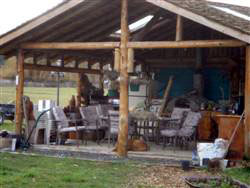 Lonnie's open air kitchen. In the
background right is the stone oven.

our pie eating date in a 1985 Airstream with Nancy on our way out of town. On the way, we passed through the hail storm and met the rain and sunshine and then 2 beautiful rainbows ... by the time we were at Nancy's the sun was shining on her silver palace. Mmmm hmmm. Michael and his boss, Lonnie, came by to pick us up to show us his "hobby" which is raising exotic birds ... 20 acres of amazing birds. On his property there is a huge open air kitchen/living room and 6 or so trailers with various people ... some help with the birds, some use the feathers to make jewelry, others are just staying there and caring for old people in the area. It is a funny little community with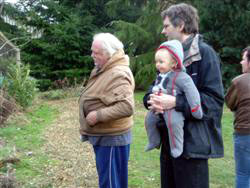 Lonnie showing Peter the birds.

chicken running around everywhere and random stuff which can be used in a project someday. The open air kitchen was made of found random building supplies and even had a bread making oven made of stones inside ... really one of a kind. After touring the cages ... we left with eggs from the chickens ... the eggs were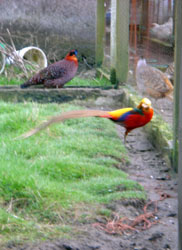 Two of the most colorful birds.
A bit blurry, too little light.

beautiful with tough shells ranging in color from olive green to deep rusk/brown color. We all went to Nancy's Airstream for Strawberry Rhubarb Pie ...yeah an 11 inch masterpiece ... with the filling being more than 1 inch. We sat in the living room area of her 32 foot Excella Airstream (1985) and ate pie, bricks of icecream (cut with a big knife) and drank coffee. I love the setup of her airstream. If I ever have one that big I will set it up this way ... starting from front: living room sofa, kitchen on doorside and eating nook across with fridge on nook side, bathroom/closet and then master bedroom in the back. The newer airstream have hug wrap around windows which really make the area bright! I really enjoyed the adventure we had ... meeting Nancy, Michael and Lonnie ...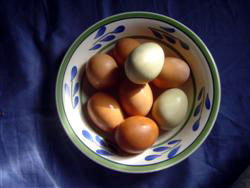 Beautiful eggs from Lonnie

even though we only met each other the day before, I really felt like I had know them for a long time ... I gave them big hugs as we left and I think that I will feel this warmth for a long while ... Plus, Peter and I are both excited about eating soft boiled farm fresh eggs and think of them in the next weeks!

February 25, 2007
Sequim, Washington
[Michelle:] Dungeness Spit Recreation area has a check out time of 3 PM ... we did not quite make it ... at 4 PM we were hooked up and ready to go (as the park ranger drove by) ... and then we just had to sit on the cliffs for one last time and have a picknick ... so we did. Sun and waves and a view of the the water that makes you feel free. We finally headed out and went to Walmart to pick up some things ... well, I think Peter went down every isle [Peter: But that's just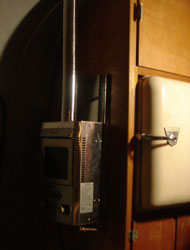 Heater and the 50s fridge on the
original furniture

how I do shopping! I walk every isle and pick up what I need, that way I don't forget anything. I'm looking forward to my first Super Wal Mart! ;-)] ... and then we ask the manager if we could camp in the parking lot ... and we bought a DVD player ... and we laughed at ourselves ... good job, we saved 16$ on campsite fees by staying at Walmart but spent 100$ on a 10 inch DVD player ... grin ... We were in the shopped-out-dazed-mood while setting up to camp out, when a pickup truck pulled up to oggle at our rig ... Peter in his friendly way invited them in to take a look and we learned that Nancy lived in a 1985 Excella Airstream just a few miles away. Her boyfriend, Michael, lived in a pickup camper on a bird farm and was fascinated with our heater, Newport by Dickinson. [Peter: It's really special. The air for combustion is sucked through the double layer chimney, warmed up by the exhaust gases that pass in the other direction. Thus it's completely separated from the indoor air, does not deplete any oxygen and does not release any CO or CO2 indoors, as opposed to the off-the-shelf gas heaters. Sondra, we love this heater! Great gift. We think of you every time we light it.] Well this lead to that and instead of chatting in the cold of the Walmart parking lot, we invited them in for beer and animal crackers ... ummm that is what we had handy ... and we spent some enjoyable time just talking. It was lovely. Nancy and Michael left us directions to their places and we said that we would stop by on our way out of town. How fun!

Feb 24th 2007
Still Dungeness Spit, Washington We stayed for some more days. Beautiful place and many places in the Olympic Mountains are within a 45 minunte drive. More soon.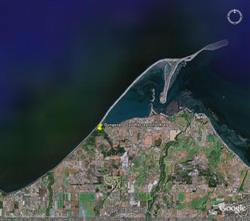 The "Dungeness Spit",
a 3 mile sandbank

Feb 18th 2007
Dungeness Spit, Washington (Google Earth Link) Another recommendation from the fellow ferry travelers. Great place, a huge sand bank stretch that we'll hike today. We'll stay here another night and go to Hurricane Ridge up in the Olympic Mountains tomorrow, snow shoeing. It's like spring here, first blossoms, we had tea on the bench overlooking the shore with a view of the mountains. This is the kind of camp ground Michelle had in mind, not the RV parks next to the Interstates that we saw when we traveled up to Wyoming.

Feb 16th 2007
Fort Worden State Park, Port Townsend, Washington (Google Earth Link)

[Peter] We have ended up at this site purely by chance. We think Terry from Mom's TLC recommended it to us, but we actually wanted to get a little closer to Hurricane Ridge in the Olympic Mountains (still one of our next destinations).

But then the ferry service to Port Townsend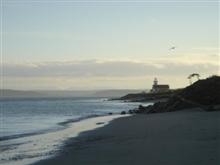 The Beach With the Lighthouse

was interrupted due to strong winds. In the waiting room we met stranded fellow travellers, many of them commuters who know the area well, and they strongly recommended this site. The ferry finally went at 9:15 pm. We thought twice whether we should take it in these borderline conditions but eventually trusted the captain's judgement. And I was frankly looking forward to a little more entertainment than on your average passage. The ride then was pretty exciting, the ferry tilted in the wind and rolled quite a bit in the heavy sea; everybody was asked to stay seated. I went outside to see the reported "15 to 20 feet" waves but was called inside by a crew. They didn't want to do this man over board maneuver I guess. Anyway, after that late arrival in Port Townsend we didn't see much of the nature or town before we had to check out at 1 pm today.

When we finally made up our mind to stay another day (it's a pattern, isn't it?) we got the very last spot because it's President Day weekend. Now we are surrounded by giant RV motor homes and trailers which dwarf our tiny tin bubble. Now in the evening some people are sitting in their dining rooms with extractable side walls, watching TV after dinner. Others brought their own firewood and built campfires. It seems that many people are from the area and know each other from before. Only I work on our log – our mobile Internet access works here.

The State Park is an old military base built around 1900 as a defense for the area around Seattle. I haven't found out yet who they feared would attack them. Canada? Japan? European powers, who admittedly had a naval arms race going in pre-WWI? But Europe is on the wrong side of the American continent. Anyway, they practiced a lot and had a lot of military administration, but never was a shot fired in anger, as one web site put it.

[Michelle] Imagine ... the middle of winter and everyone went camping ... mostly all local WA people with their big rig campers with TV and satelite dishes etc. We were so primitive in comparison. (grin and proud of it too). We were the only RV without the "blue glow" from the TV. We ended up getting a lovely 2 level site where we could disappear into the bush and do what-ever ... well, I mainly went up and did dishes and looked at the views of the ocean. But if you ever go to this park, ask for site number 42! There is a huge fort which looks like a great place to have a party ... with lots of live bands and cocktails ... they have made it open to explore and have welded open all the doors so that it is safe enough without being paradnoid

Feb 12 - Feb 15th 2007
Still Doe Bay

[Peter:]
We decided to extend our stay on Orcas Island by two days. It's beautiful. We wanted to spend another afternoon at the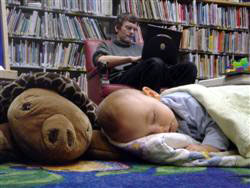 In the Orcas Public Library

library. It has an excellent children's room, with the cardboard books on eyelevel for the toddlers and cruisers, toys, a nursing chair, WLAN, other kids... a good combination that catered to all of us. A very friendly staff in this light wooden building. Among the new acquisitions on this island I saw Lee Smolin's Trouble with Physics — this simply must be a good library.

And on Valentine's day we had the special dinner at Mom's TLC (for the Germans: TLC = tender loving care) Cafe, Prime Rib. A giant peace of Beef with green beans, mashed potatoes, gravy... yum. I think we were the only ones who didn't ask for a doggy bag. (But we would have a late and reluctant breakfast.) We had been there before for breakfast/lunch and enjoyed the familiar atmosphere very much. We were looking forward to dining there; somehow it's nice to come back to a place that one likes, rather than hurrying from place to place without ever getting a feel for one. (We'll never make it to Mexico...). The athmosphere in the little restaurant was so nice; everybody wanted to cuddle with Robin. Harold, an assistent from the hardware store was there who had been so fond of Robin the other day, for a Valentine's dinner with his wife. We learned about their children and their life on Orcas Island.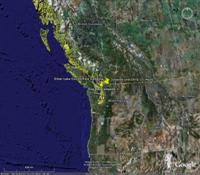 The picture points to a Google Earth
location file – get Google Earth, it's cool
Feb 11th 2007
Doe Bay on Orcas Island, Washington
[Peter:]
Michelle threatened that we would not leave Orcas Island before the first page of our trip log is online. Now that's no real threat actually, except that we would miss out on some things that are still ahead. I am also getting tired of all the rain on the West Coast in Winter, and the airstream needs some serious drying out. Time to head for the Death Valley :-).
We'll start with today, going backward and forward in time as our time permits. Ok, that's a bit like how can you simulate the universe other than with the universe itself? There may be no time for writing left after living the day. But we'll try. Live a little less. No hot tub today.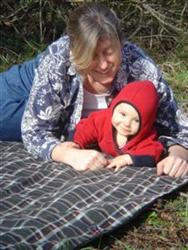 Playing on a sunny day on the Irish
picknick blanket that we got from Finola

So for all of you who have wondered for the past months where the hell we are: We are on Orcas Island, northwest of Seattle, one of the San Juan Islands.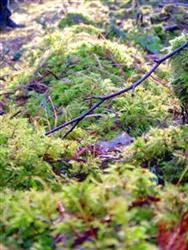 Moss and grass on our hike
on the North Trail of Turtleback
Mountain. The intense green is difficult
to capture with a digital camera

Orcas is green with lots of mossy forest, lakes, ponds, deer, and Bald Eagles. Right now it's off season which we enjoy. People who come here tend to be interested in nature. There are large nature preserves. Till yesterday we have been in the middle of one of them, Moran State park, named after the man who donated it in the early 20th century. Funny enough, in 1911 he couldn't find a government agency that was willing or able to accept his donation. I guess everybody was still concerned with developing the country; preserving it was only just getting on the agenda. So he had to wait until the Washington State Parks and Recreation Commission was founded in 1913 which could eventually take charge of his land.

Yesterday we moved to the Doe Bay Resort, where Michelle has been several times in the 80s and early 90s. It has hot tubs with sea view, a cafe/restaurant and, yes, hot showers in walking distance (which our site in Moran Park did not). This gives us the incentive to explore the Island outside Moran State Park.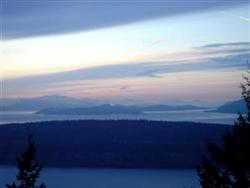 Sunset over the Island Landscape
West of Turtleback Mountain

Today and yesterday we have hiked up Turtleback Mountain which was wonderful, maybe even nicer than Mount Constitution. Turtleback Mountain has only a few months ago been bought in order to create another nature preserve and is only open to the public since January 5th, so we were among the first people exploring it. There are no carefully prepared trails like in Moran State Park but just logging roads and a few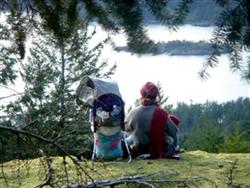 Michelle wearing the wonderful hat from Rita,
nursing Robin, looking west from the
South Trail on Turtleback Mountain

signs that have been erected in the past weeks. The views from Waldron Overlook in the north and even more from Ship Peak in the south are amazing. The forest on the island is dryer than in the Mount Baker area because Orcas lies in the rain shadow of the Olympic Mountains and has only 20something inches of rain, which is about as much as in Hannover.

[Michelle:]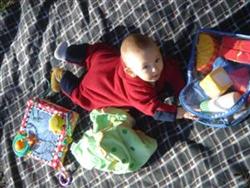 Robin playing with his fun blocks from Aunt
Marjorie and his dragon puppet/blanket
thing from Sondra on a spring like sunny day at
Doe Bay camp grounds

ROBIN UPDATE: Well, the little guy is 9 months old and cruis'n for a bruis'n ... that means that he has learned to pull himself up to standing and then falls uncontrollably and makes a bruise here and there ... oh, it is painful to see. He has also experienced a lot of teething and has acquired both his top 2 and bottom 2 teeth ... grin. Somehow I just love to see all this progress. He has also mastered the art of spit bubble speach ... oh it is cute and wet and charms all the playmates he meets. Somehow he manages to find lots of cute girls to play with him. Last night he played with 2 sweet girls from the island and today there was one in the library that took him under her wing ... Peter and I just sit back and watch ... and grin ... and wonder where he got such a flirt talent at such a young age ... hmmmm? Peter?????? genetic????? could be??????

**** Above starts our original log. The stuff below has been added in January 2008. --Peter

February 7, 2007 ( Moran State Park) [Michelle] Funny, it is quite fun to hang around this town Eastsound ... yesterday we hung out at the laundromat and got to know a few people ... today we have had our adventure in the ACE hardware store ... and now we are cosy in the library where there is a child height aquarium and Robin had a lovely nap on the back of a stuffed turtle and alligator. It is really a great place to hang out! Libraries are great places to find out what is going on in the community ... there is usually a bulletin board with activities posted ...

Robin can really pull himself up and stand as well as getting around/half crawling and half scooting like a snail.

Monday, February 5, 2007 (Moran State Park, Orcas Island WA)
[Michelle] We arrived here on February 1 and it was lovely! We were the very last people on the ferry and we got to see a beautiful sunset and full moon. The full moon was high over Mount Baker and it was impressive! We have the entire campgrounds for ourselves. We are located on a peninsula in Mountain Lake with a spectacular view. On Friday we hiked up mount Constitution and had great visability. We could even see Mount Ranier. Peter took pictures ... my camera was out of juice ... rats ... On Saturday, we went to visit Doe Bay ... Peter was not so excited about staying there since it is 30$ a night instead of 14$ a night with no facilities/utilities ... so we are hanging out at Moran for now and getting things done ... mainly we want to start our website ... Anyway on the way back from Doe Bay we saw 7 deer on the side of the road ... On Sunday we did a small hike to Cascasde falls ... ooooo very nice indeed! On Monday we hiked around Mountain lake and later made a huge campfire. Specific impressions:
The sound of thin plates of ice hitting each other as the water underneath propigated waves ... it sounded like a cocktail party in the woods ... or like chimes in a soothing wind.
Watching the fog flow into the lake valley ... like a liquid ... earie ... like a monster.
I love my solar shower ... I showered at night in the pine forest with stars above and my shadow being projected on the trees and fog ... explain that? Clear sky above and fog below ... anyway my body was steaming from the warm water and cool air ... I sat for a few minutes after my shower in the darkness, smelling the evergreens ... admiring the stars ... and loving our situation!
Here we sit like birds in the wilderness, birds in the wilderness, birds in the wilderness, here we sit like birds in the wilderness waiting for our dessert!
We have discovered that NY sirloin is the best cut of meat to grill ... unless you can afford filet ... oh even the fat tastes heavenly!
So I loved this stupid joke from Peter today ... 2 travelers were in Texas ... arguing about how you pronounce Nachedotches ... they pull in for lunch ... In an effort to resolve the argument, one traveler asks the guy taking their order "to clearly and slowly pronounce where they were" ... he was happy to comply ... the said "Bbbbb uuuuuurrrrrrggggeeer Kkkkiiiiiiiiiiinnnnnnnnggg" ...
Robin updates: Robin learned to clap today! Yipppee! Applause!!! Also Robin loves to pull all the tissues out of the tissue box and tear them into little pieces ... Peter calls this "machen Kleinholz" ... making kinneling (firestarter wood).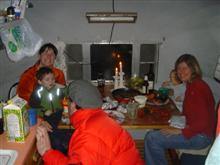 Dinner with Chloe and Ivan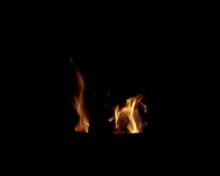 Campfire video

January 30 (Silver Lake)
[Michelle] We met Chloe and Ivan and they invited us to dinner ... we in turn invited them to a campfire and grill party. Ivan turned us onto Oatmeal stout ... Chloe gave Robin some clothes and gave us recipes for her yummy Thai food.

Tuesday, January 23, 2007
[Michelle] Yo! Another skii day hooray. We went to Shuksan National Forest and went up Hannegan Pass trail ... we had good snow, lovely views of the river and mountains and some real XC skiing. Grin. We got mixed up with the time and thus got back when it was still bright so we hiked down to the Nooksack Falls and they were very impressive! Great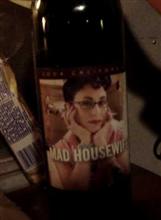 Our funniest wine

dangerous cliffs and all. Grin. We then treated ourselved to some beer, soup and garlic bread at the Grams Country store bar ... and then played a round of pool. The waitress was quite nice and was just 10 weeks pregnant and had just received a book from Ines May Gaskin. We had fun chatting with her and many of the other guests. Back at the airstream we had a second little dinner and played with Robin. He is so fun ... we played with the Pringles can and it was fun action!

Plus ... Peter-my-hero took the truck into Mount Baker Auto to have the emergency brake fixed. Good guy! Somehow we did not mind giving him our money ... because he explained everything well. He said "I talk cars not people. Cars make sense to me." [Peter] And we saved a lot compared to the Ford dealership's offer which was way over the top.

By the way, we drank on Monday night a delicious wine called "mad housewives" 2004 California wine Merlot. I did a little video in the airstream which has atmosphere. We will try to put it in the Weblog. Robin updates: We played ball with Joni and Zeeto's cool balls ... he was really excited by the game! He is almost crawling ... really showing a personality and will.

Sunday, January 21, 2007 (Silver Lake, Washington)
[Michelle] It was heavenly at Julianne's! It was such a luxury to have central heat, running water and a real hot shower. During these 4 days we realized that we wanted to explore more of the area ... so we moved our Airstream to Silver Lake on Friday. This lovely county park is snowy and quiet. Yesterday, I went cross country skiing and that felt great. The lake has mountains and steep ridges on both sides ... it is really very lovely ... makes me think a bit of the LaWhite's property in Vermont ... I am very impressed by the huge trees and the moss growing on them as well as the small saplings that have begun to grow on old stumps ... it is really a enchanted forest ...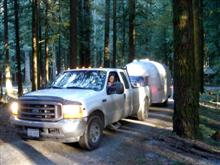 Pulling out of the Silver Lake
camp ground, late afternoon as always ;-)
Note: This park is really lovely! I could imagine renting a group of the cabins for a family vacation with other families some time!
Yesterday evening Robin, Peter and I had a jam session with each of us beating on the table or the high chair ... Robin could mimick the rhythm and was completely enjoying the sound. He seems to say with his eyes that he felt understood. After discovering that even in weather that is just barely freezing, Robin's little hands and toes get colder than I like, I constructed a fur lined bag that hangs under the backpack to act like a sleeping bag and and allows for a pillow in the front of his cockpit. Our test hike worked really well. Hoooooray!
Robin update: Robin just loves Pringles Cans ... they are acoustically fun to speak into and then are large but light with no sharp edges ... Today Robin pulled himself up to look out the back window ... the large piece of psychedelic foam is just his size ... Yesterday I think that he waved to Peter for the first time!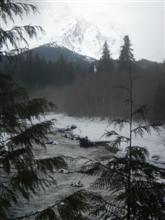 View to Mt. Baker
from the Nooksack River
January 17, 2007 (Glacier, Washington)
[Michelle] Our coordinates are: Mt Baker Area Lat: 48.9007°N Long: 121.9197°W Alt: 1029 ft

We are feeling like the luckiest people in the world right now! Mmm hmm. We are sitting in Julianne and Chris's Condo in Mount Baker Snoqualmie National Park (just on the border of Canada) and we have fresh snow ... fire in the fireplace ... fresh cherry pie out of the oven and dinner simmering on the stove. I am drinking a "pike naughty nellie golden ale", peter has a glass of shiraz and little robin is snoozing and a snoozing. We took a 4 hour snowy hike up Nooksack river today and checked out the Horseshoe Bend Trail with all the wild white waters. Needless to say, this time of year, we left the only foot prints in the snow ...

I was particularly impressed by all the moss on Cedar and Hemlock trees. They look like furry animals ... Dr. Suess like ... a bit spooky too. The moss and snow seem so opposite and unreal existing together in this wild landscape. Additionally the power of the white waters flowing over the rocks making waterfalls and very loud noises was mesmerizing.

Jenny Gaus gave Robin a 'Slinky' and he is facinated by it. It is the only thing that will distract and calm him down when we are buckling him into the car seat. Thanks Jenny!

January 5, 2007 (Seattle, Washington)
[Michelle] When we got back to Seattle, we took the airstream out of storage and began on the main part of our "BIG AIRSTREAM ADVENTURE".

Seattle had been hit by storms while we were in Germany, but the people at the storage space had taken care of our stuff, rearranged the tarp we had used to protect the Airstream and even collected scattered items that the wind had blown around after our big box's lid had flown open in the storm.

We had a bit more time in Seattle so we had a lovely pika alum brunch and I tracked down and went to visit my old friends Jenny Gauss and Julianne Dalcanton. Julianne and her husband have a holiday apartment on Mt. Baker and they said that we could stay there for 4 days, yippee ... we can't wait!

December 2006 (Berlin, Kleve/Germany and Houston)
[Michelle] We flew back to Berlin in order to be at Peter's father's 70th birthday and to handle a few issues like looking after our appartments. While we were in Berlin we got to see some of our friends briefly. Unfortunately, my back became injured on the way to the train station and I had to miss the birthday party because I was in so much pain. The next day they took me to the hospital where the doctors gave me a shot in the spine to stop the spasms. For the next week we were unsure if I could even take our flight back to the USA ... luckily I could.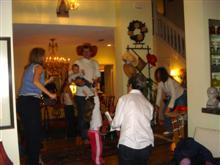 Christmas dance at Sondra's
We flew first to Houston to meet with my family for Christmas. Tom and Shir had just had baby Ron and we were excited to get to meet him! Shir's mom was visiting from Israel and we had a lovely dinner party with great food and crazy dancing. Peter, Robin and I stayed at Aunt Marjorie's house ... We felt very lucky to get to spend time with her and hear her stories. Unfortunately, however, I had to sleep on the floor with Robin because the small beds were too small for the both of us.
After spending New Years in Houston, we flew to Seattle to resume our airsteam trip.
November 12- December 1, 2006 (Dallas, Denver, Wilson, Seattle)
[Michelle] Here is a brief summary of the start of our BIG AIRSTREAM ADVENTURE!
On 12.11 we had a lovely Sunday brunch in the airstream with Aunt Marjorie, Shir, Tom and us ... it was a lovely day! (Look at this picture page, the first three photos are from that day.) Unfortunately, Mom and Michael could not make it because Mom had a really bad flu! Poor mom, she really hates to miss a party.
On 15.11 we finally pulled out of Aunt Marjorie's and headed for Aunt Sugie's in Carollton TX ... what an exciting feeling to be on the road ... with all the uncertainties.
After sleeping in the driveway of Aunt Sugie we continued north through Oklahoma, Kansas and Colorado ... in Louisville CO we stayed with Ann Riedl and Scott Reeves (friends from Boston) ... and they really showed us some hospitality ... I have a great recipe for Popovers and the best nursing shirt ever! Thanks Ann! Zachary and Robin played together ... oh how it would be nice for Robin to have a playmate!
We then drove north to Wyoming and stayed in Rawlins and Lander on the way to Wilson (by Jackson hole) to spend 5 lovely days with Randy Selden and Nancy ... we did not make it up their icey steep hill with the airstream so we kept it at the foot of the hill at a metal worker's workshop (Wes Webb). There we slept very well!
We saw lots of moose/elk ... also other wild life like woodpeckers ... we had a cosey thanksgiving dinner with Nancy and Randy's neighbor (Georgia) ... we had an exciting and exhausting hike in the mountains with snow shoes. We learned that Robin is not very warm in just the red suit in the backpack ... I am going to rig something up so he will be as snug as a bug in a rug! We were soooooo lucky to have such lovely blue sky weather ... at the end we had to leave (abruptly) because the weather got stormy ... couldn't risk getting snowed in and missing our flight in Seattle.
Headed off on Sunday 26th to Idaho falls and then on to Fruitland ... then to Pendleton Oregon ... arrived in Seattle on 29th and moved into the last site at blue sky trailer part at exit 22 off I-90. Super campsite!
We met up with and stayed with Ed Alverson and Michelle (his wife) and 2 kids (Jonathon and Morgan) ... They were sooooooo good to us ... they even gave us their kingsize bed so that Robin could sleep with us without falling through the cracks. Ed even got up in the middle of the night to drive us to the airport ... what a sweetie!
Airstream is snookered in an RV spot at Peoples storage ... the video monitor shines on it so that Marg and Sam can see that it is safe ... funny huh? We will pick it up in January, I think, and continue our little trip.
September - November 12, 2006 (Houston)
[Michelle] Preparing for our trip meant ... fixing the airstream (new axle, electrical brakes, gas heater, building a custom queen size bed, installing the furniture ...), buying a truck, obtaining insurance, getting Peter a driver's licence, opening a bank account and getting credit cards, visiting my high school friends (introducing Peter to them) ... and spending time with mom learning how to salsa. Some how doing all this took 2 months. Remember that we are also learning how to be parents ... so we were not too inefficient ...
Last change: June 9th, 2009 (added pics)