IMG_0521.JPG
One of the glass pieces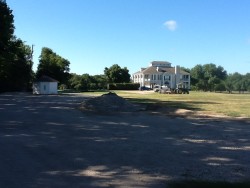 IMG_0605.JPG
There was a campground behind this stately mansion allegedly helping financing it.
After three days of admittedly somewhat half-hearted driving we are still in Texas :-). It's a big state and we drive its largest diameter from the gulf to the panhandle.
IMG_0651.JPG
View from the Capulin Volcano Crater rim, New Mexico

IMG_0662_stitch.jpg
A panorama shot from the rim

IMG_0724_stitch.jpg
A panorama of the Great Sanddunes in Colorado
A few photos of Independence Pass in the Rockies. It's part of the continental divide. The pass is one gateway to Aspen, but it's only open in summer, and not for long vehicles. But as usual our little Airstream can go anywhere our truck goes, and the truck doesn't really count as big here.

IMG_0808_stitch.jpg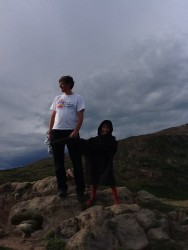 IMG_0831.JPG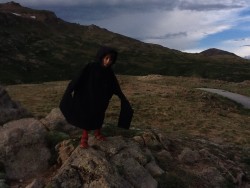 IMG_0840.JPG
July 22 - July 26
We have spent some days with Leslie and George and their children in Aspen, Colorado. Aspen is the St. Moritz of the Rockies. It's beautifully located at an altitude of 8000 feet (2500m), surrounded by some of the highest peaks of the Rocky Mountains. In winter there is always tons of snow. In the summer the air is fresh and everything invites you to go on a hike or a bike trip on the nicely prepared trails. Real estate is extremely expensive; everybody seems to be rich. There seems to be a competition going on among the women who is the most sporty. Slender bodies, no matter whether they are 30, 40 or 50. It's really conspicuous. Their main occupation must be working out. Perhaps being a trophy wife is a precarious position that doesn't become more comfortable as time passes. The men are well dressed in an expensive casual fashion and are mostly good looking and in good shape as well. They are often on their phones talking business, but not so much that it would be really annoying. People tend to be friendly and open. A couple of times people who overheard our conversation offered advice from the next table in the cafe.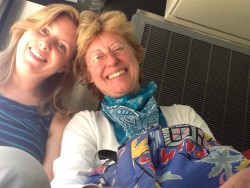 IMG_0864.JPG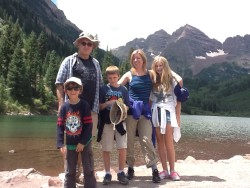 IMG_0891.JPG

A panorama at the foot of the Maroon Bells
The river was great. Robin and I crossed it hopping from rock to rock, together with Lily and Thomas. Sometimes Robin would jump and hold on to my hands while I would swing him around to the next rock, balancing myself. Quite exciting. I had a little freak accident there: A big rock that may well have weighed half a ton gave under my weight (now is the time to start your diet, right?). Turned out it split straight in two. Thank goodness noobody was close to it. I landed on my soft behinds and got away with just a few bruises. That was lucky although some sitting positions still feel uncomfortable ;-).

Later we learned that the rocks are generally very unstable and accidents involving rock climbers are uncomfortably common.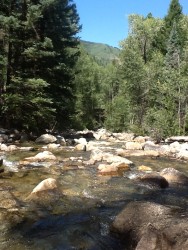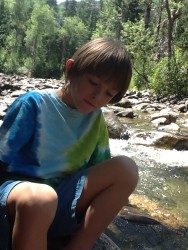 IMG_1002.JPG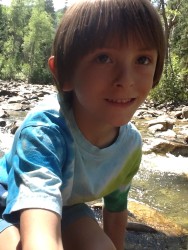 IMG_1003.JPG
Our picturesque camp site. Attention check: What trees are these?
The route would take us through Utah and Idaho. We didn't want to make big detours but still picked a few attractions on the way. One of them was the Dinosaur National Monument.

IMG_1045_stitch.jpg
July 28
In the morning we explored the Dinosaur Quarry National Moument. The display of the dinosaur bones in the quarry is of course, well, monumental. There is a photo of the paleontologist who discovered the bones in the 1930s. Wanna see a happy man? ;-)
The campground of the monument is nicely located next to a river, with shady spots, crucial at this time of year. As always after some time in the desert one appreciates water and looks for green specks on the horizon which may indicate some. Camping in a lush valley is like nature's blessing to the traveler. This place is well worth returning. We would have liked to stay longer and explore some of the monument's mountainous backcountry.
We did take the time to explore some easily accessible parts of the monument though. An auto route leads to some of the petroglyphs (drawings scratched into the rock, as opposed to rock paintings with colors). They are about as old as our romanic medieval churches which is kind of a funny thought. At the end of a little dirt road we took a little hike to the remains of the homestead of Josie Morris. In 1916, after 4 marriages, this then 40 year old lady decided to live on her own, built her own log cabin and lived off the land. An enchanting place with a moving story. The efforts that have been made to preserve some of the structures she erected (stable, cabin, ponds) really pay off.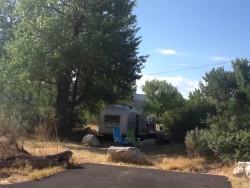 IMG_1071.JPG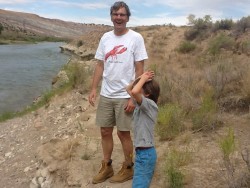 IMG_1081.JPG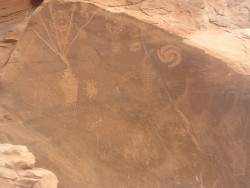 To us the face paintings were not all that mysterious: It's clearly space ships and galaxies! ;-)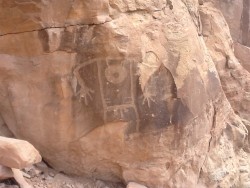 Look, a man!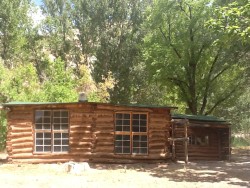 The cabin of Josie Morris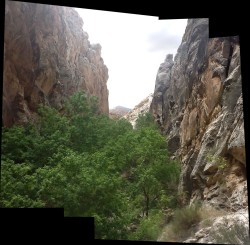 One of the pocket canyons which Josie used to keep cattle. There is surface water coming down from the mountains.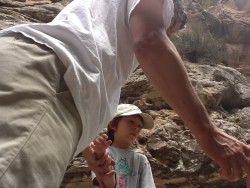 IMG_1116.JPG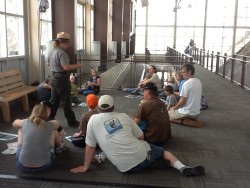 Dinosaur Bingo in the exhibition hall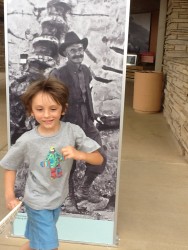 IMG_1160.JPG
After some afternoon driving we camped at the aptly named River's Edge Camp Ground. It's located at the foot of the impressive Jordanelle Dam. When I wanted to climb it I discovered that it's all fenced off with video surveillance. (Later the camp host said that it was accessible before 9/11.) Knowing your stubborn author it shouldn't surprise you that I tried to get up there anyway, although not under the eye of the video with flood light. Instead I climbed a side mountain nearby in order to approach the dam from the side. When I explored a concrete structure that looked like a mine entrance I found that it was a tunnel entrance. It looked like a water tunnel so I figured it might take me to the dam. (No, it didn't look as if much water had flown through it recently). Luckily I had brought a flashlight. It was longer than I had anticipated but at the end I was not disappointed. It was an overflow tunnel with an inlet close to the dam's crest. Fortunately the end of the inlet was a dirt slope (or I coudn't have escaped the high concrete walls). And there I was: No "no trespassing" signs passed, no fences climbed — and still right on the damn dam. Image legend: I crossed the river at the foot of the mountain at 1, the tunnel outlet is close to 1a, inlet at the dam's crest is 2, 3 is where I ended up and 4 is probably a regular water inlet.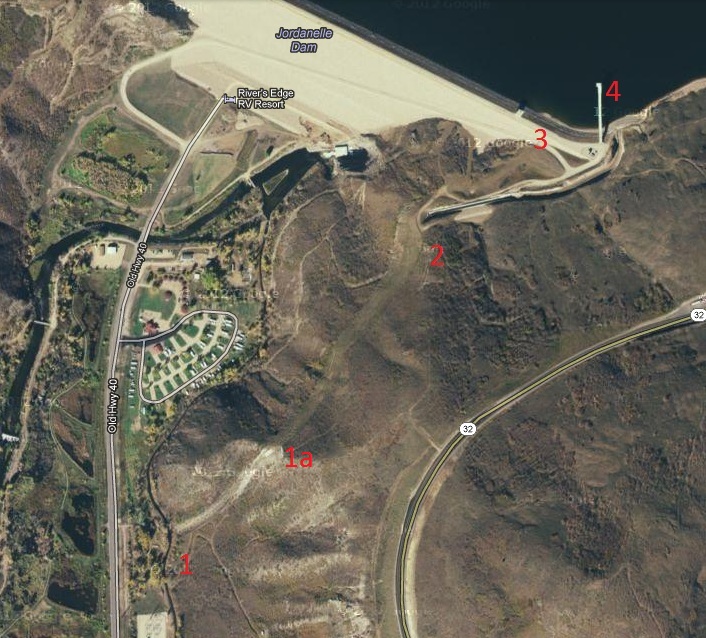 The water level was low; chances are that they need to relocate the inlet soon, like at Lake Mead when the level there hit historical lows.
The way back took a little longer than planned because I didn't want to backtrack; I climbed down the mountain slope towards the campground on deer trails, by then in the dark. The paths down to the campground are clearly visible on the aerial picture but were hard to find and follow on the ground in the dark. By the time I got down Michelle was already looking for me with a flashlight. She had worried quite a bit. (Shouldn't she know by now? The first time I was in America with Michelle I took a little afterooon stroll from Leslie's home in Altadena and ended up on Mt. Wilson which is farther away than one thinks in the clear air. Luckily there was a phone booth at the observatory entrance, so I called her at 8 p.m. before I hiked back.)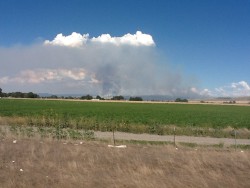 Wildfire in Idaho. The horizon looked unusually hazy from the distance, but it was not moisture.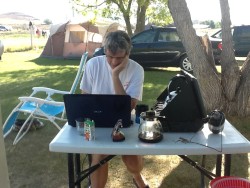 Yippee, WLAN! ;-)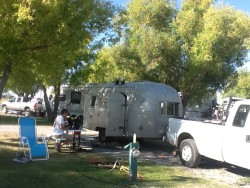 On a typical KOA campground. Well maintained, all amenities, but densely packed as compared to public campgrounds.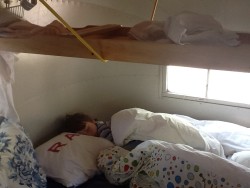 Robin asleep under the suspended shuffleboard. There was no other way to store it.
Images from the Craters of the Moon National Monument. Amazingly, there was frozen water at the bottom of the aptly named Dewdrop Cave. A quick search indicates that that happens in other caves, too. It is really stunning because it's very hot outside in the summer. A brief discussion of the mechanisms can be found in Wikipedia.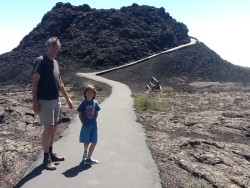 One of the lava spouts that scatter the park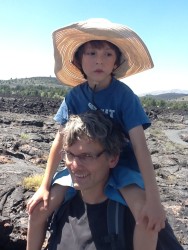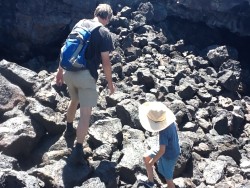 Dewdrop Cave Entrance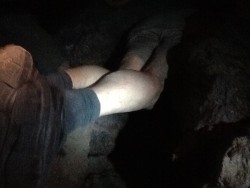 Your fearless author taking the next picture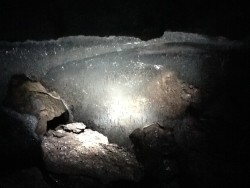 Ice!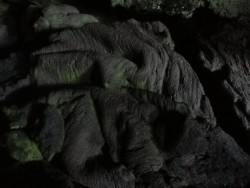 Funny folded rock shape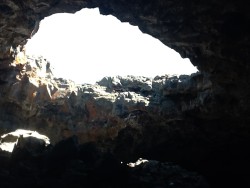 In one of the bigger caves with "skylights"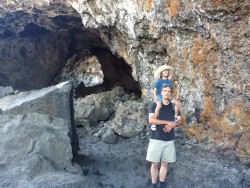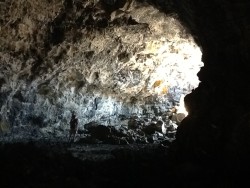 This is actually a lava tunnel (it's big — do you see me standing there?). Lava was flowing underground for miles like in large pipelines. When the supply stopped, the duct drained and the empty tunnel remained as it can be seen today.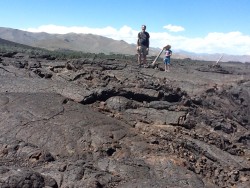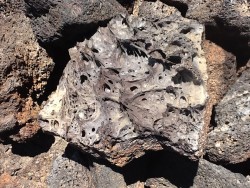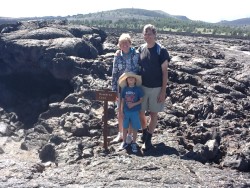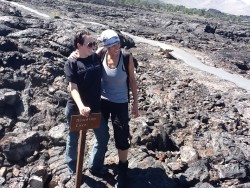 We met these two girls on the cave hike and Robin showed them the ice. They were so excited :-).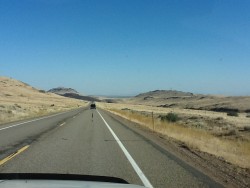 Typical road scene. Typical weather, too.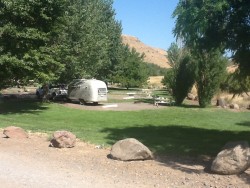 Typical camp site ;-). We took a little detour to get to this lake campground which was totally mosquito infested at night.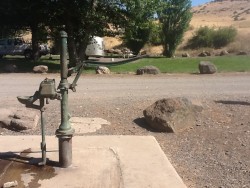 Funny old pump (only potable water source there)

Two panorama shots of the Hell Canyon feeding into Columbia Gorge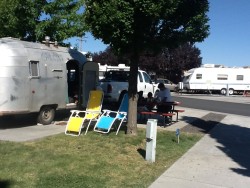 Last stop before Portland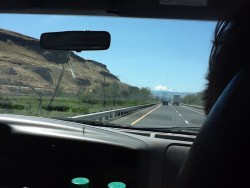 In the background is Mt. Hood. Seeing it from great distance reminds me of images of the Fujiyma or Kilimandjaro (not that I have seen either of them).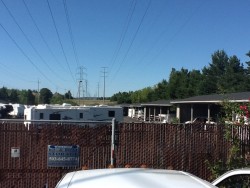 Full circle: The next storage space.
In Portland we were so wonderfully hosted by David and Doris (and Devon and Daniel, too, who made it so much fun for Robin). We felt really at home. Thank you!

If all things go all right, we have a townhouse in Portland by September 5th.