Home
Vacation on Samsø in Denmark 2009
Check out the pictures from our trip: 1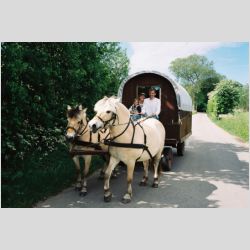 Exciting!

We had a splendid week on this lovely island. Michelle wants to lure the family there — after all it's covered wagons which has some pioneer feeling to it. With a few added amenities: The modern propane fridge worked really well, which is essential for the beer that goes with the barbecue :-). Here comes Michelle's impressions.
Hi Everybody!
I was looking for something special to do for Peter and my birthdays ... and I found the best Airstream substitute ever ... mmmm hmmm we rented a covered wagon with 2 horses for 1 week and slowly explored a special island in Denmark called Samsø.

We set out on May 22 and took the ferry from Rostock (Germany) to Denmark and spent Friday night on the mainland ... Saturday morning we continued north and then west of Copenhagen and took the ferry to Samsø where we arrived at the farm and met Steen who owns the horses and built the wagons.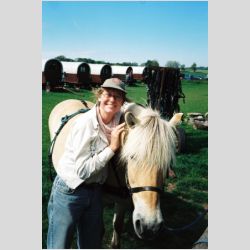 On Steen's Farm
Anyway we moved into our wagon and snuggled in for the night. The next day he taught us all about the daily care of our horses (Marabou and Zenta) and how to harness them and how to drive the wagon with brakes and all. Oh what a JOY! I was loving it all ... the leather and steel gear, the horse smells and the gorgeous Electrolux refrigerator (runs on propane gas) which was chilling our champagne. His horses are Norwegen Fjord horses and are very gentle and good natured. They are tan colored with a mohawk like mane with a black center stripe. Anyway on Sunday we were off to our first campsite and we were traveling alone ... the other guests had either started the weekend before or were coming at the end of the week. So just us, the horses, a map and some food ... grin. Steen was always reachable by cell phone if we ran into a big problem that we could not solve ourselves.
The first campsite was on the edge of a small fishing village called Ballen. We detached our horses, brushed them, bathed them, cleaned their hoofs, gave them carrots for all the good work and set them to pasture. Then we explored the harbour. The fishermen were sitting around drinking beer in the golden hour sunset light ... Robin played on the beach. We had chilled champagne waiting for us so we headed back to our wagon and watched the sunset, drank champagne, ate dinner and snuggled in.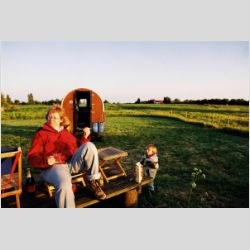 Chilled Champagne :-)
The next day we did some grocery shopping and set out to our next site (Saelvig Bucht) which was next to a long calm shallow beach. I had bought wonderful fish at the fish market and we had smoked mackerel and fresh corn on the cob. Robin and peter made a wonderful sand castle with a path for rolling rubber balls (Kugelbahn).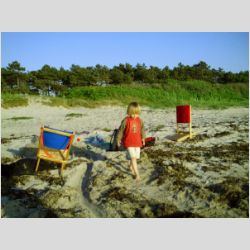 On the Beach. Marble Track in the Foreground.

The next morning, oh drama, Zenta had wiggled out of her halter and we had to find it in a huge overgrown field and then catch her (ha ha she would just gallop away) and get it back on her ... oh my ... we finally called Steen and he gave us a tip over the phone. "Just catch Marabou and rig him up and then Zenta will come because she does not want to be lonely" ... yup worked like a charm. We were finally rigged up and ready to go to Ballebjerg (by Nordby). Later that day ... I noticed a noise that sounded like my tap shoes ... Marabou had a loose horseshoe ... it eventually fell off ... and he did get a new shoe ... Anyway we stayed at this campsite for 2 nights to let the horses rest and we explored the highest mountain on the island and then went into Nordby. There we ate wonderful licorice icecream (looked like sheep's cheese with ashes) and peter learned that tomorrow (his birthday) would be the soccer finals (Barcelona vs Manchester) and he really really really wanted to see it. So the next day we found the only TV in town at a café and joined all the other soccer enthusiasts for a lovely evening. It just so happped that this café had fantastic fancy food ... we ate braised lamb with samoe potatoes and roasted root vegetables (carrots, pasternacks ...) and drank deep red woody wine. For dessert we had rhubarb cake with the entire café singing happy birthday to Peter. I was a lovely night! We met such friendly relaxed people. Even the chef cook was with us watching the game and cheering. For Robin they had a big basket of toys which kept him busy puzzling and playing. There was even a sofa for Robin to nap on.

On May 28th, my birthday, Peter picked me some wildroses with some wheat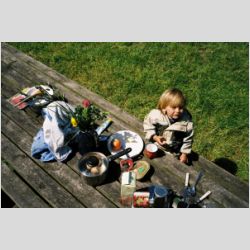 Michelle's Birthday

stocks and wild flowers and put them on the breakfast table. We had a late and wonderfully sunny breakfast and then cleaned up and headed toward Langor. Langor is a harbour with in a wild life refuge so we could not sleep there but we did put our horses to pasture and explored the town and had a spaghetti lunch (cooked by me in the wagon). We then did the rest of our tour at dusk. It never really gets dark in Denmark this time of year ... you really have some light until 11 PM. Almost every night we made a wonderful campfire and it was very difficult to go to bed before 2AM ... it was just all too nice. By the way Peter gave me 3 dance video DVDs for my birthday and I am soooooooo excited about seeing them.

Robin woke up early on Friday 29th and then when we were ready to walk to the beach he fell fast asleep. So we had a quiet morning with each of us reading books, napping and cleaning up a little. By the time Robin was up from his nap the Anderson family arrived in their 3 wagons. All the horses were put to pasture. We went to the beach ... had lots of fun and came back ready to head to Besser for the night. NO GO! Zenta did not want to leave the herd ... she was stubborn and then galloping and then kicking. We called Steen (who was taking his wife out for her birthday dinner) and he told us to just stay the night and he would come in the morning to help us. We were soooooo happy to stay the night with the Andersons. They gave us champagne and then Robin pancakes and carrot cake ... we grilled all of our meat and shared it with them. It was a feast and a good good time. They come every year on this weekend with the extended family ... grand parents, kids and their spouces and kids. It was so fun and I was just wishing that the Maxfield Family was all here doing this too! Maybe someday? Maybe for my 50th birthday?

Anyway Steen came the next morning and helped us get off to a good start ... because the horses were needed in the afternoon for a new family. We returned to Besser and cleaned out our wagon and caught our ferry to the mainland. On the way home we stopped to eat dinner in a larger town called Vordingburg and checked out the grounds of a mideaval fort from 1300. Very well done! Still every year anthropologist come for 8 weeks and dig and report their findings to the locals. Anyway we stayed the night at the hotel in town and continued to the cliffs of Mon the next day.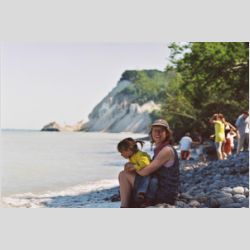 Cliffs below Castle Liselund

Ho ho when we arrived to the cliffs of Møn ... we had a lovely surprise. The campground was not full (even though it was a holiday weekend) and it was really wonderfully wild and on cliffs with old growth trees. This was the oldest camp ground in Denmark, started in the 1920's and is still full of people who are off the beaten path ... a bit artsy ... a bit kooky. One site had a tight rope tensioned between two trees and crates of farmers market bio veggies and self made bread. The next site had a huge Krupp game set up for play (although they were at the beach). Other sites had macho men who made massive fires and then went kayaking during the day. Another couple stayed up all night sawing wood in perfect little logs and stacking them in perfect stacks. One fishermann was telling me about one camper woman who dances in the forest while singing opera. Sooooo you can see that we fit right in with all of our quirks. There were only 30 camping groups allowed and no real sites ...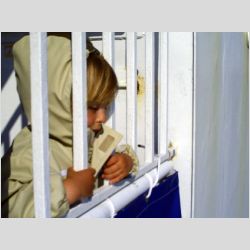 On the ferry home

you just searched out a place in the forest and set up camp. By the way camping cost 5 Euros per night. We went to the cliffs for sunset and to the rocky beach in the day. We really did not want to head back to Berlin ... we would have loved to camp there for a week! On the way out we stopped at the lovely Castle Liselund and walked the grounds ... it was like a small version of Sanssouci. We finally got on the road to home, took an extra small ferry just for fun and then the big ferry to Rostock and arrived late late in Berlin. What a lovely vacation ... I really like Denmark! People are great, yogurt is yummmy and the light is special ... I am hooked on the nature!
---
1
I uploaded large versions of all pictures in case somebody wants to print them. They reside in "big" directories below the respective subdir, e.g. playing-and-resting/2009_06_denm_c000022.JPG has a big version under playing-and-resting/big/2009_06_denm_c000022.JPG.